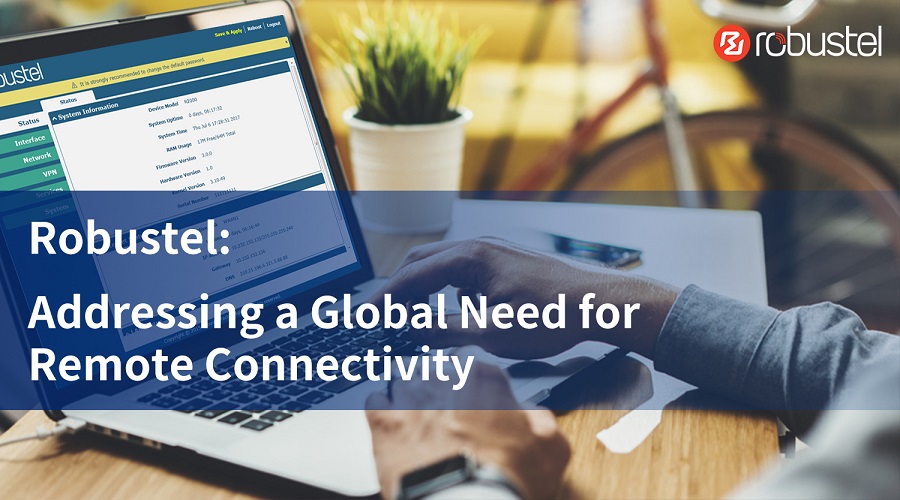 2020 has seen the global community dealing with an unprecedented challenge. The spread of COVID-19 has forced companies, governments and individuals to rethink and innovate traditional business models to address issues and reduce the rate of infection.
Our first priority at Robustel was to adjust our working practices to ensure the health & safety of our employees, their families and our channel partners across the world. Now it's time for us to see how we can come together to help our partners and customers in times of economic uncertainty.
The Internet of Things (IoT) has always been about employing remote connectivity to improve the efficiency and profitability of traditional businesses, but with the current global climate, industries that may have been biding their time or researching IoT connectivity are being forced to move at an accelerated rate.
For those companies, Robustel and our global network of partners are here to help with: Industry leading products, expert technical support and remote management & connectivity software.
How can Robustel help you?
Solutions First – With Robustel products being used in over 100 countries and every conceivable IoT vertical our local channel partners work closely with the Robustel IoT team to find solutions that are already proven and working for your industry.
Local Support –Robustel devices are sold globally through channel, we have a network of highly trained distributors, re-sellers and systems integrators to provide you with local commercial and technical support.
Zero-Touch Deployment – With our advanced smart factory for kitting and powerful Over-the-Air (OTA) device management tool RCMS, devices can be shipped directly to remote sites ready to work out of the box.
Included Connectivity & Device Management – From 1st April 2020 Robustel will be extending our

Free-Trial to RCMS from 1-month Essentials to 3-months Advanced

giving customers access to everything RCMS has to offer including remote VPN capabilities.
What Solutions can Robustel and our partners provide?
Remote Office/Work from Home

LTE cellular backup/redundancy or primary Wi-Fi
Remote VPN into machinery, workstations or assets

Medical Facilities/Healthcare

Pop-up WiFi/connectivity 
Remote patient interaction (Video calls, telehealth, etc)

Construction & Infrastructure Management
Agriculture

Irrigation
Autonomous Machinery

Utilities
Primary Industries (Mining, Oil & Gas, etc)

Asset Monitoring & Preventative Maintenance
Remote Communications

Public Transportation, Freight & Logistics

Telemetry concentrator
Notification and LED screens
In-Vehicle Wi-Fi/Device Hub
Warehouse or stock Management
To connect with a local Robustel partner and start finding the right solution for your business please contact info@robustel.com or visit https://www.robustel.com/contact-us/