Protecting and securing their building against theft, damage and other incidences is a key concern of most business and facility operators. In the past, buildings have been armed with basic alarms and monitoring systems, or with closed circuit television systems (CCTV), which offers a better look at the situation to reduce incidents. However, traditional CCTV cameras can only record video footage for people to review later.
Now, thanks to the help of Internet of Things security solutions, building managers and operators can monitor and secure their facilities more effectively. Security surveillance systems and intelligent CCTV systems have improved visibility for organisations and businesses to safeguard their assets, buildings and workers. A smart camera solution can now detect and interpret incidents autonomously. 
Robustel has the perfect solution to get your CCTV devices connected. Our 3G/4G routers provide secure and remote access to your CCTV network and are customisable to suit your exact needs.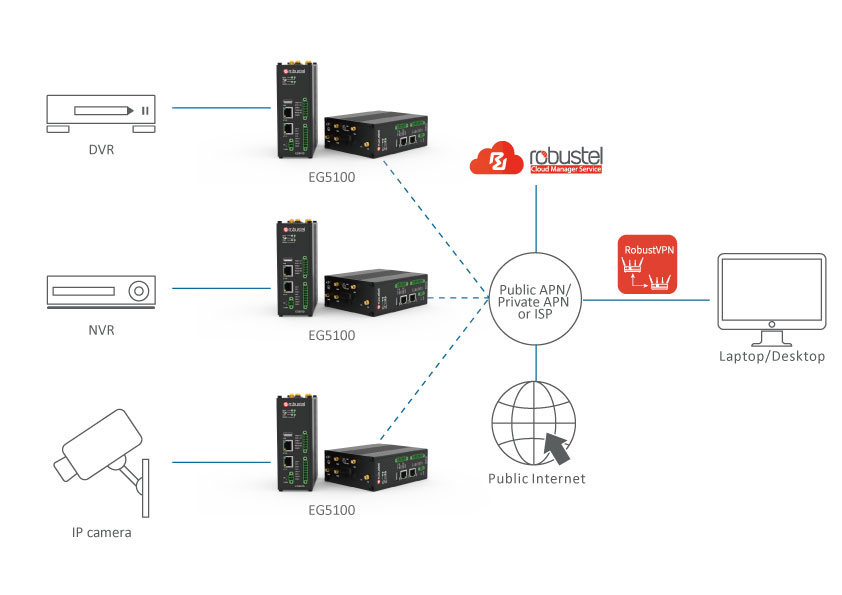 What are the uses of IoT security monitoring systems?
One popular application dominating the IoT and security solution sector is smart CCTV systems. It's common to find a connected IoT camera in nearly every smart application, from doorbells and elevators to building management systems. Operating within a network of motion sensors, smoke detectors, and alarms, smart CCTV cameras can alert an operator to an incident and even act autonomously to request help from emergency responders.
Smart security systems are in high demand across a range of spaces, including commercial buildings, factories, warehouses and public transport, and are being leveraged in various ways, such as:
Assessing foot traffic in a retail store.

Tracking suspected shoplifters.

Monitoring a facility.

Alerting authorities in an emergency situation.

Monitoring where people are gathering.

Counting the number of people who move through a particular area, like an office, during a specific timeframe.

Providing a better understanding and management of parking spaces.
There are also uses for CCTV in smart home security systems to monitor entry points for potential intruders or for dangers, like a fire.
Manage your assets with smart security systems
A secure IoT connection enables full communication between smart CCTV devices and operators. Leveraging end-to-end services in both hardware and software, operators can manage and protect their assets efficiently.
IoT cameras enable operators to:
Monitor who is entering and leaving a building in real-time.

Track stock as it moves through the facility.

Consistently monitor your facility conditions and quickly detect changes in the environment to avoid spoiling stock.

Act quickly on security alerts without the need to review footage.
Securing a connection that isn't going to fail when you need it most is key to keeping your assets safe. Dual-SIM Routers that are equipped with Dual-SIM slots allow you to seamlessly switch between multiple carriers in case of a network outage – meaning you're connected at all times.
Faster response times with IoT Security Systems
Speed plays an important role in safety – the faster you can respond, the greater chance of preventing damage or catching suspects. Using algorithms, connected networks and access to data sets, CCTV systems can analyse in real-time, reducing the need for human intervention. Instead, these systems can be programmed to perform a range of actions, including:
Sending an alert to the right authorities within seconds.

Activating sprinklers or ventilation systems.

Alerting to suspicious people using pre-defined 'suspicious' behaviours programming.

Activating an alarm or evacuation system.

Activating locking mechanisms.
Remotely connect with Robustel
The biggest benefit of IoT CCTV cameras is being able to connect from a remote location. By harnessing IoT security surveillance cameras, building managers and security professionals can remotely monitor all aspects of their facility from any location. Not only can they act quickly on important security alerts, but they can also assess whether there is a false alarm without inspecting the site in person.
Robustel's 3G/4G routers provide this remote access to CCTV systems. Connecting your router for security cameras to Robustel VPN unlocks access to a remote connection, no matter the location. Contact us today and we'll get you connected.