Overview
Robustel's 3G and 4G routers are often used to provide temporary 4G boradband connectivity or to act as a backup 4G WAN for existing sites where additional network resilience is required.
Robustel routers can work independently to provide internet access through an existing WiFi network, an existing Ethernet network or by a cellular 3G/4G connection. An extensive configuration capability means that any of the WAN types can act as the primary link with secondary and tertiary links invoked if loss of the primary is detected.
Robustel routers also feature protocols such as DMVPN, VRRP and PPPoE to allow them to work in harmony with other firewall / router appliances and create a fault-tolerant solution. Robustel 3G/4G routers can integrate with products from manufacturers such as Cisco, Juniper and Sonicwall.
Using PPPoE on a Robustel router can effectively turn it into a cost-effective 4G modem which can plug into the Ethernet WAN port of any network appliance that supports PPPoE and instantly provide a simple 4G failover solution without significant change to network topology or configuration.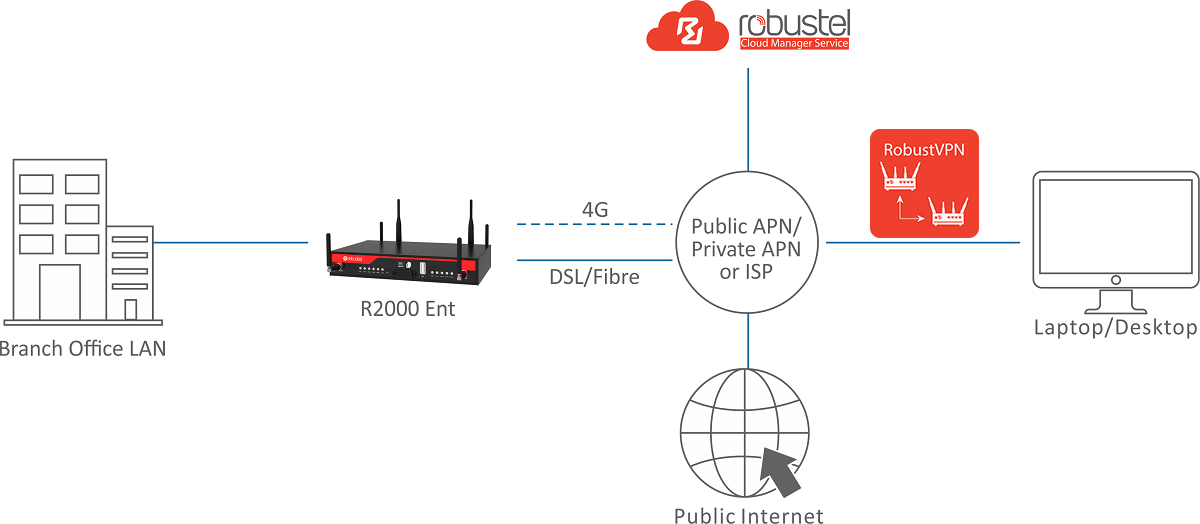 Scenario A - Robustel router providing Ethernet / WiFi WAN + 4G access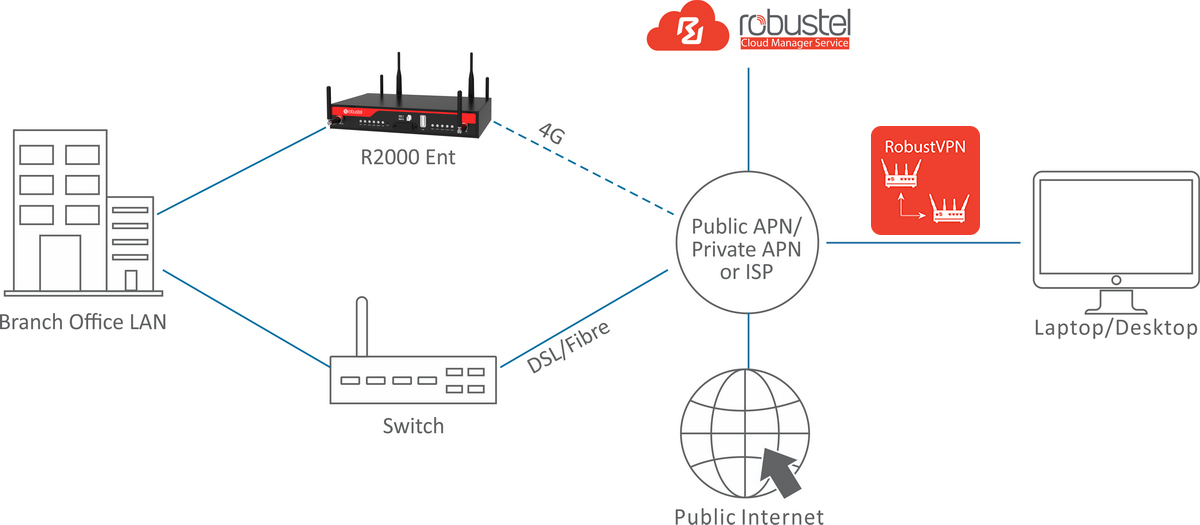 Scenario B - Robustel 4G router interacting with existing wired infrastructure
What are the benefits of partnering with Robustel to deploy Fixed Line Redundancy Solutions?
Robustel Benefits at a glance
Competitive Pricing - Robustel offer extremely cost-effective addition of 4G cellular connectivity to any WAN infrastructure.
'Dual module' routers – Allows 2 x 4G SIMs to be used concurrently. The router can switch to a backup 4G path in under 3 seconds – ideal for critical security applications.
'Dual SIM' routers - Dual SIM capability allows "dialing up" on a secondary cellular network if primary fails.
Multi-Network SIM Support – Support for roaming / multi-network SIMs provides enhanced reliability of backup 3G/4G link.
Global Router Management - RCMS router management platform provides a simple overview of 4G router estate - API interface allows for easy integration into Network Management Platforms.
Native VPN Protocols – Robustel's devices have native applications to control a wide variety of VPN protocols to help secure data transmissions across the public internet - IPSEC, OpenVPN (TAP and TUN), L2TP and more…
'RobustVPN' – A unique networking solution from Robustel. Allows deployers to make a remote connection to any ethernet or serial device directly using any SIM anywhere on the planet without the need for a static IP address.
Create your own application using RobustOS
All Robustel routers run the Linux-based, "RobustOS" operating system.
Because Robustel write the router Operating System in-house, Robustel's levels of tech support and software customisation far exceed the typical capabilities available in the market.
This means that users in the fixed line deployment market can develop a dedicated application for Robustel's routers to customise the product's behaviour to exactly meet the project's demands.
An example of such an application would be to create a custom SNMP MIB serving specific network performance indicators to the customer's chosen network management platform using SNMP and/or other protocols as required.
Cloud Device Management and VPN Access through RCMS
Robustel Cloud Manager Service (RCMS) is Robustel's custom IoT software platform and eco-system. Connecting your Robustel device to RCMS opens up a world of applications to make managing devices, connectivity and provisioning simple.
Use the Robustlink Device Manager App inside RCMS to instantly access your connected devices from anywhere. Allowing you remotely configure, update apps & firmware, debug error logs and view data usage at any time.
Use the RobustVPN App inside RCMS to create allocate one or many of your deployed devices to a VPN group which can they be accessed through the RobustVPN desktop application to access your deployed devices without the security risk of a public IP address or the need for private Static IP allocation from your carrier.