Overview
Robustel's 3G/4G routers are commonly used to provide Passenger WiFi solutions for vehicles ranging from a taxi to a high speed train. 1500 buses are currently operating in Spain with Robustel 4G routers providing customers with internet access and more than 3000 vehicles in Sweden currently use a Robustel 4G modem to connect subsystems to the internet.
Robustel's ability to deliver 802.11ac WiFi and LTE CAT6 communications in an industrial package provides the perfect platform from which to build fast and very cost-effective Passenger WiFi systems.
Robustel's RCMS router management platform can be white-labelled and self hosted to provide a fleet management Dashboard with a wealth of features that provide a commercial advantage to Passenger WiFi system installers and operators. The ability to make an inbound connection on ANY SIM using RobustVPN, an auto-populating map view and highly accurate 4G data counting are just a few of the tools available.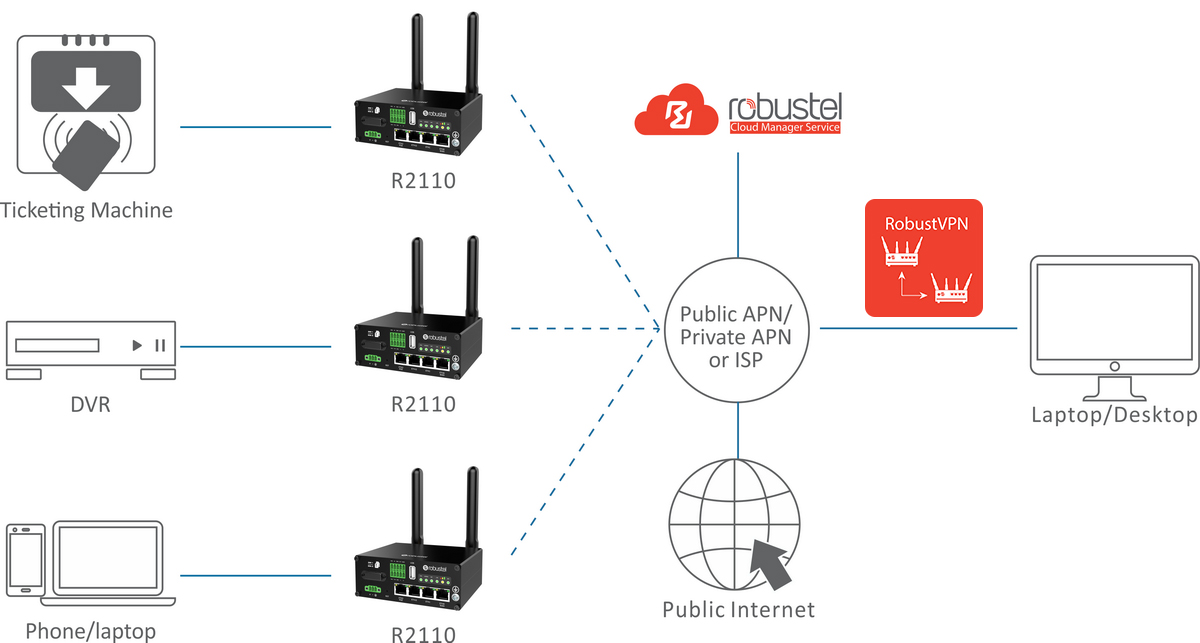 What are the benefits of partnering with Robustel to deploy passenger WiFi Solutions?
Robustel Benefits at a glance
DATA-Guard – DATA-Guard data limiting APP provides a flexible and innovative failsafe against the dangers of "bill-shock" from unexpected 4G data overruns.
Cost Effective – Low cost CAT4 and mid-range CAT6 LTE options available.
High Performance – High performance routing means the router is never the bottleneck - LTE speeds are the only limitation.
Custom Housing & OEM – Custom PCB-level or boxed product solutions available as well as OEM manufacturing capabilities.
Global Certifications - Global certifications for Robustel 3G/4G routers in North America, Europe, Asia-Pacific and more - please enquire for full details.
Firewall & Captive Portal – Extensive configuration options for firewall and captive portal provide flexibility for a multitude of deployment scenarios.
Create your own application using RobustOS
All Robustel routers run the Linux-based, "RobustOS" operating system.
Because Robustel write the router Operating System in-house, Robustel's levels of tech support and software customisation far exceed the typical capabilities available in the market.
This means that users in the Passenger WiFi market can develop a dedicated application for Robustel's routers to customise the product's behaviour to exactly meet the project's demands.
An example of such an application would be to provide router management data (signal strength, cell ID, data usage etc.) to a customer's existing fleet management platform using a specific protocol that is particular to the customer requirements - MQTT or HTTPS for example.
Cloud Device Management and VPN Access through RCMS
Robustel Cloud Manager Service (RCMS) is Robustel's custom IoT software platform and eco-system. Connecting your Robustel device to RCMS opens up a world of applications to make managing devices, connectivity and provisioning simple.
Use the Robustlink Device Manager App inside RCMS to instantly access your connected devices from anywhere. Allowing you remotely configure, update apps & firmware, debug error logs and view data usage at any time.
Use the RobustVPN App inside RCMS to create allocate one or many of your deployed devices to a VPN group which can they be accessed through the RobustVPN desktop application to access your deployed devices without the security risk of a public IP address or the need for private Static IP allocation from your carrier.