Manage Digital Video Recorders, NVRs and IP Cameras wirelessly by utilizing Robustel's IoT Hardware & Software.
Overview
Robustel's 3G and 4G routers are often used by professionals in the CCTV sector to provide remote access to CCTV devices such as DVRs (Digital Video Recorders), NVRs (Network Video Recorders) and IP Cameras. key feature of the R2000 Dual is a built-in 4 port PoE (Power over Ethernet) switch that can provide power and data to IP cameras along a single run of CAT5 cable saving the cost and complexity of installing a separate power cable to each camera. Support for 802.3at Power over Ethernet means 30W of power can be delivered on each of the 4 x PoE ports providing adequate power for PTZ cameras as well as static IP CCTV cameras.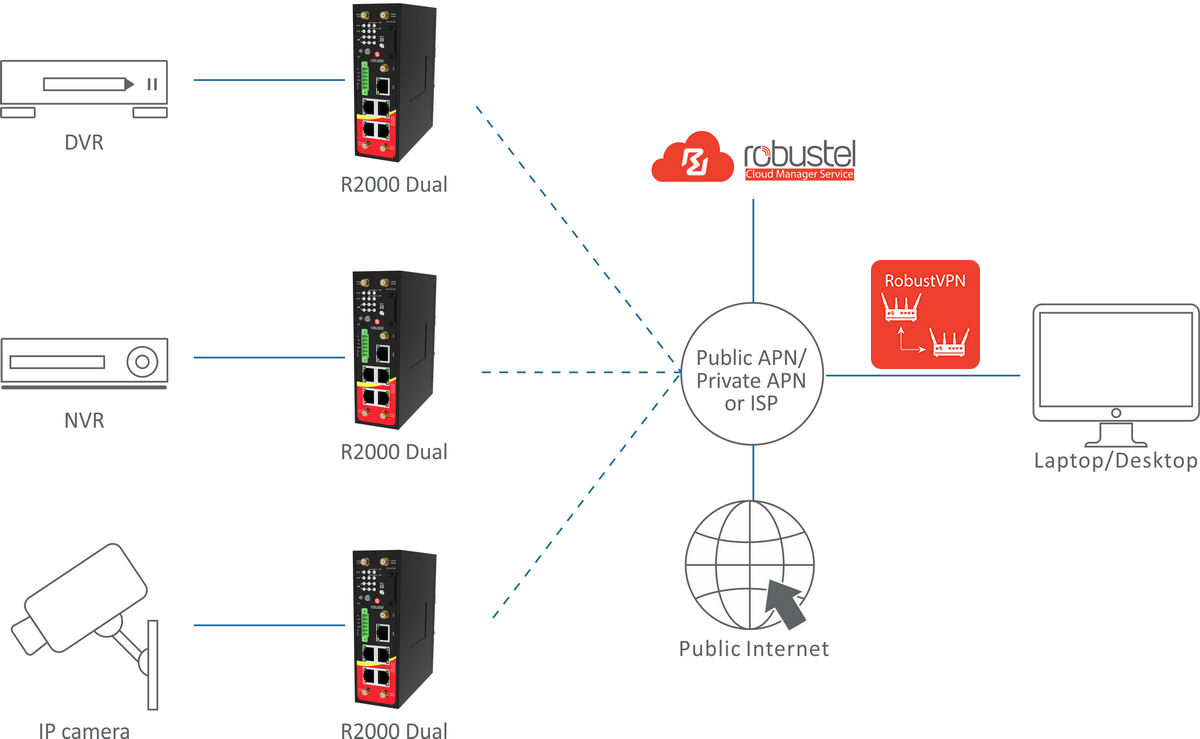 What are the benefits of partnering with Robustel to deploy CCTV Solutions?
Robustel Benefits at a glance
Built-in PoE Switch – This means IP cameras can be switched off/on remotely, potentially saving the cost of a site visit to reboot a 'crashed' camera.
'RobustVPN' – A unique networking solution from Robustel. Allows deployers to make a remote connection to any camera, DVR or NVR directly using any SIM anywhere on the planet without the need for a static IP address.
'Data Limiting' App – Provides protection against unexpected 4G data overusage bills – streaming video can burn through data fast so a safety net is essential.
Dual-SIM Routers – Robustel routers come equipped with Dual-SIM slots and allow seamless switching between multiple carriers in the event of a network outage or signal loss.
'Dual module' routers – Allows 2 x 4G SIMs to be used concurrently. The router can switch to a backup 4G path in under 3 seconds – ideal for critical security applications.
'Failover mode' – Router can be configured to use a standard internet connection (ADSL/fibre) as primary internet connection & only use 4G data on primary connection loss.
Create your own application using RobustOS
All Robustel routers run the Linux-based, "RobustOS" operating system.
Because Robustel write the router Operating System in-house, Robustel's levels of tech support and software customisation far exceed the typical capabilities available in the market.
This means that users in the CCTV market can develop a dedicated application for Robustel's routers to customise the product's behaviour to exactly meet the project's demands.
An example of such an application would be to report connection based variables such as signal strength, data consumed, running time, change in connection state of LAN port (ie. camera unplugged) and others to a head-end software package giving operators instant network status changes or threats.
Cloud Device Management and VPN Access through RCMS
Robustel Cloud Manager Service (RCMS) is Robustel's custom IoT software platform and eco-system. Connecting your Robustel device to RCMS opens up a world of applications to make managing devices, connectivity and provisioning simple.
Use the Rlink Device Manager App inside RCMS to instantly access your connected devices from anywhere. Allowing you remotely configure, update apps & firmware, debug error logs and view data usage at any time.
Use the RVPN App inside RCMS to create allocate one or many of your deployed devices to a VPN group which can they be accessed through the RVPN desktop application to access your deployed devices without the security risk of a public IP address or the need for private Static IP allocation from your carrier.