Overview
BMS (Building Management System) integrators and installers often use Robustel's 3G and 4G routers to provide remote connectivity to sites that they, or partner companies, are responsible for maintaining. One saved site visit can easily cover the cost of a router + SIM Card contract with any subsequent savings acting to improve a company's operating margin. Because many plant rooms do not receive good mobile network signal, the use of multi-network or "roaming" SIMs is often proposed. However, getting the best from a roaming SIM does not happen automatically and this is where Robustel's "Smart Roaming" solution can provide improved resilience against network outages. You can read more about the application of Robustel's Smart Roaming capability in this case study. The DI (Digital Inputs) and DO (Digital Outputs) featured on Robustel's routers can be a useful supplementary feature for BMS systems, providing event alarms or switching the state of 3rd party devices remotely on demand. Full customisation of the routers behaviour can be achieved with a custom APP installed into the cellular router's OS (Operating System).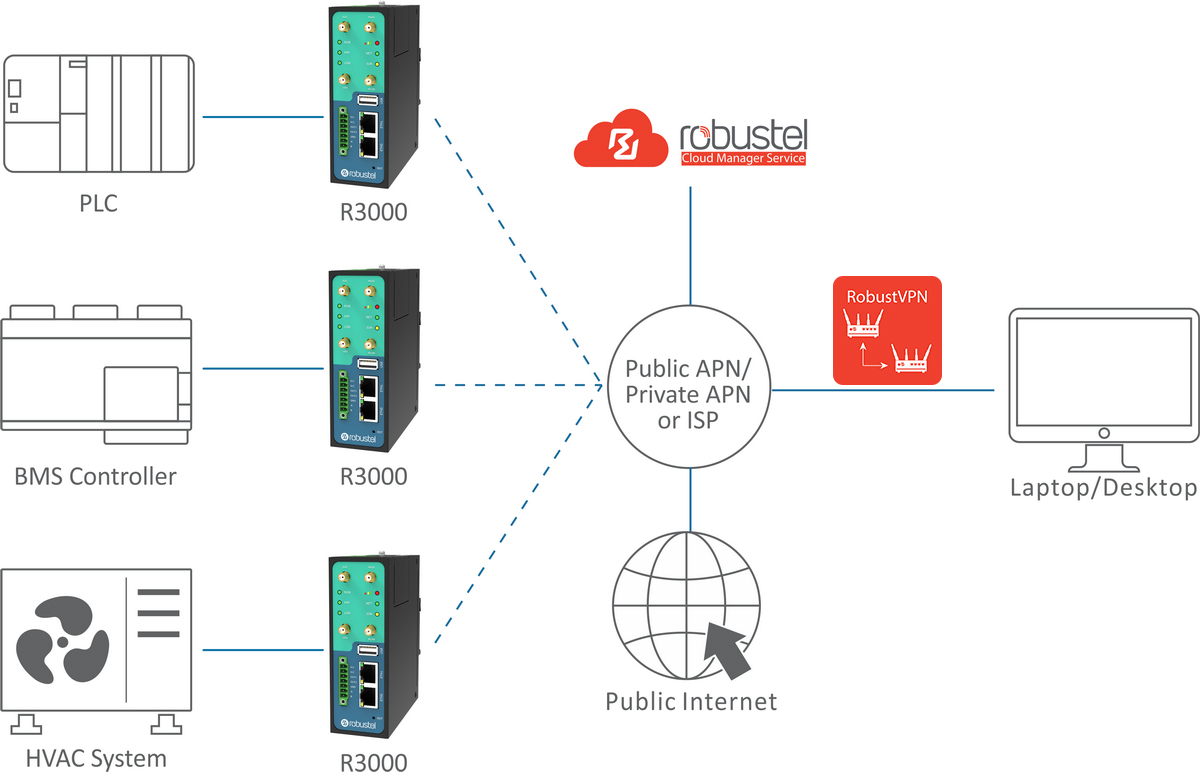 What are the benefits of partnering with Robustel to deploy BMS Solutions?
Robustel Benefits at a glance
Outbound Internet – Robustel's 3G/4G routers can be configured to provide outbound internet access as well as inbound connections to specific Controllers / devices.
'RobustVPN' – A unique networking solution from Robustel. Allows deployers to make a remote connection to any BMS System directly using any SIM anywhere on the planet without the need for a static IP address.
Native VPN Protocols – Robustel's devices have native applications to control a wide variety of VPN protocols to help secure data transmissions across the public internet - IPSEC, OpenVPN (TAP and TUN), L2TP and more…
'Data Limiting' App – Provides protection against unexpected 4G data over usage bills – useful if 3rd party customers are also given remote access over cellular networks.
Built in Firewall – Robustel routers come equipped with a natively available firewall that can help with integration into more complex networks. Robustel's experts are on hand to assist with complex network topologies.
 'Failover mode' – Router can be configured to use a standard internet connection (ADSL/fibre) as primary internet connection & only use 4G data on primary connection loss.
Create your own application using RobustOS
All Robustel routers run the Linux-based, "RobustOS" operating system.
Because Robustel write the router Operating System in-house, Robustel's levels of tech support and software customisation far exceed the typical capabilities available in the market.
This means that users in the BMS market can develop a dedicated application for Robustel's routers to customise the product's behaviour to exactly meet the project's demands.
An example of such an application would be to add a layer of intelligent 3G/4G network selection when using multi-network SIMs, so none of the traditional limitations of "Automatic Network Selection" hinder system performance, especially if a network outage occurs.
Cloud Device Management and VPN Access through RCMS
Robustel Cloud Manager Service (RCMS) is Robustel's custom IoT software platform and eco-system. Connecting your Robustel device to RCMS opens up a world of applications to make managing devices, connectivity and provisioning simple.
Use the Robustlink Device Manager App inside RCMS to instantly access your connected devices from anywhere. Allowing you remotely configure, update apps & firmware, debug error logs and view data usage at any time.
Use the RobustVPN App inside RCMS to create allocate one or many of your deployed devices to a VPN group which can they be accessed through the RVPN desktop application to access your deployed devices without the security risk of a public IP address or the need for private Static IP allocation from your carrier.