Overview
The continuous development of IoT technology has had a profound influence on the medical industry. Bedside medical equipment, (such as hospital ultrasound machines, ECG, etc.), need to maintain a stable wireless network connection while being moved throughout the hospital as required.
Traditional wired connectivity solutions are often costly, difficult to deploy, and don't offer the flexibility required by medical staff on the go. Cue effective Internet of Healthcare Things (IoHT) deployments.
Remote monitoring enables medical professionals to see the status of mobile equipment and patient updates in real time from anywhere via the Internet, which greatly saves time and improves work efficiency.
As well as in-hospital monitoring, the IoHT can also assist outside the hospital, by supporting paramedics with emergency care procedures, and even after-care in the home. Ambulances are becoming a combination of reception area and triage, as connectivity allows access to medical records and other time- and resource-saving information.
In a competitive context where medical device manufacturers struggle to grow their profit margins, developing new lines of business can bring more opportunities. Including maintenance service contracts can generate additional revenue.
There are already many hospitals and healthcare providers relying on Wi-Fi networks, however there can be issues with patchy coverage or devices that struggle to connect to the network and remain connected. Robustel are able to mitigate this issue, firstly by utilising more reliable cellular LTE networks, and secondly by offering dual SIM capability. This means that if there is a network outage, the router will automatically failover to a secondary provider.
The major benefits of Medical Equipment Maintenance empowered by IoT are:
Equipment Reliability and Longevity: By connecting healthcare assets, Robustel enables a new level of insight into hospital operations, making it easier for medical staff to monitor and maintain critical equipment. Medical devices that need maintenance or supply refills can be monitored remotely; when a problem arises or supplies become depleted, the device can send an alert.
Reduced Costs: This technology also helps track medical equipment that needs to be mobile – for example, a piece of testing equipment that is used across a large hospital campus. This enables IT departments to know where their equipment is in real-time.
Security: By removing humans from healthcare processes, M2M-IoHT communication actually helps protect the privacy of patient data.
Robustel and our global partners can provide either partial or complete end-to-end solutions for connecting:
Blood pressure and heart rate monitoring cuffs
Oxygen tanks
Ultrasound monitors
ECG machines
CT scanners
to a Robustel gateway.
This enables remote monitoring of medical devices that need maintenance or supply refills; when a problem arises or supplies become depleted, the device can send an alert.
Robustel solutions leverage 4G LTE to offer reliable, flexible, secure connectivity that is dependable and easy to deploy. We support healthcare organisations in maintaining the highest levels of network security, while retaining the flexibility they need to continuously improve patient care.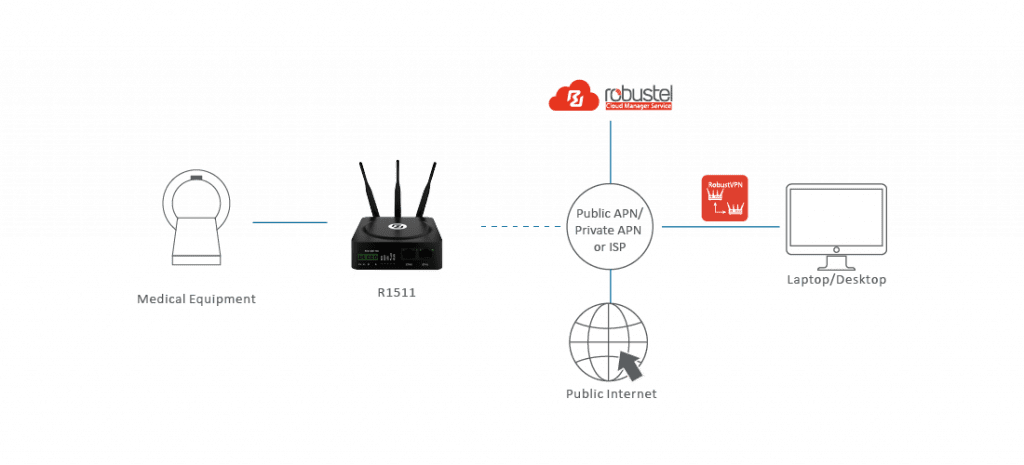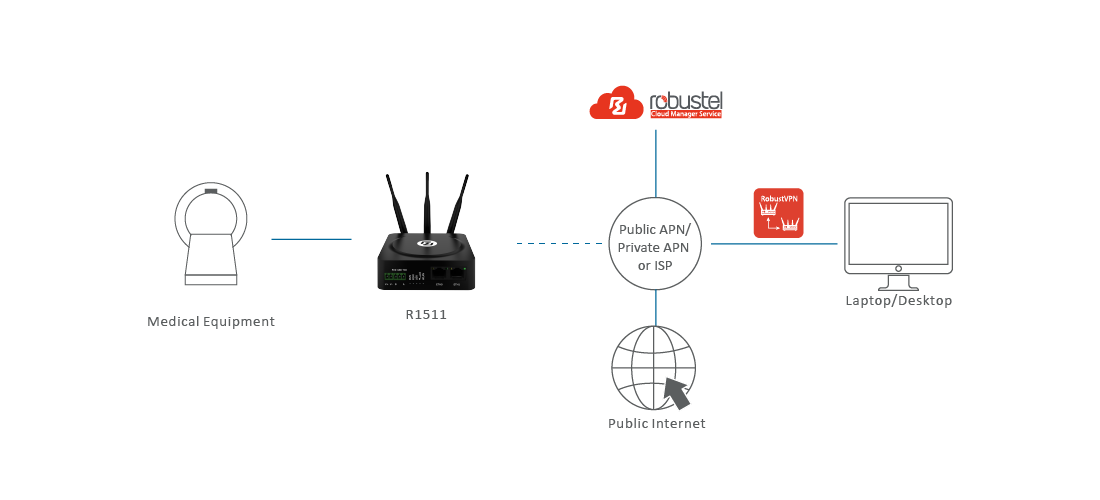 What are the benefits of partnering with Robustel to deploy Medical Equipment Maintenance Solutions?
Robustel Benefits At-A-Glance
Real-time Monitoring – Medical devices with Robustel can provide remote patient monitoring in real time by always-on and always-aware connectivity.
Outbound Internet – Robustel's 3G/4G routers can be configured to provide outbound internet access as well as inbound connections to specific Controllers / devices.
Security – Supporting private network APN, VPN and firewall settings, the solution can ensure the secure transmission of data
Simple Installation – Plug-and-play for extensive LTE access can greatly reduce deployment costs.
Extended Quality of Life (QoL) – By connecting critical assets, Robustel enables maintenance schedules, costs and resources are optimized to the specific fleet of devices.
Create your own application using RobustOS
All Robustel routers run the Linux-based, "RobustOS" operating system.
Because Robustel write the router Operating System in-house, Robustel's levels of tech support and software customisation far exceed the typical capabilities available in the market.
This means that users deploying medical equipment maintenance solution can develop a dedicated application for Robustel's routers to customise the product's behaviour to exactly meet the project's demands.
For critical applications intelligence can be placed at the network Edge inside the router to allow faults and exceptions to be handled immediately before the router needs to communicate to a cloud environment to get its next action; saving time, money and potentially lives in the process.
Cloud Device Management and VPN Access through RCMS
Robustel Cloud Manager Service (RCMS) is Robustel's custom IoT software platform and eco-system. Connecting your Robustel device to RCMS opens up a world of applications to make managing devices, connectivity and provisioning simple.
Use the Robustlink Device Manager App inside RCMS to instantly access your connected devices from anywhere. Allowing you remotely configure, update apps and firmware, debug error logs and view data usage at any time.
Use the RobustVPN App inside RCMS to create and allocate one or many of your deployed devices to a VPN group. They can then be accessed through the RobustVPN desktop application without the security risk of a public IP address, or the need for private Static IP allocation from your carrier.