Overview
The utilities industry is under constant pressure to balance increased productivity to serve a growing population and increased resource demands with profitability. Through distribution automation, the utility industry is able to improve real-time monitoring, control, and management of medium-voltage (MV) and low-voltage (LV) grid distribution, from the substation to meters.
Electricity distribution network operators are challenged with acquiring real time data from massive numbers of remote assets in disparate locations, powered by varying technologies. In order to support utility companies around the world Robustel and our local partners can provide Distribution Automation solutions, to enable remote connectivity to sub-station and power-line equipment, help manage distributed remote equipment from one or several centralized locations, all equipped with dual SIM or WLAN failover to maximize uptime while reducing cost significantly.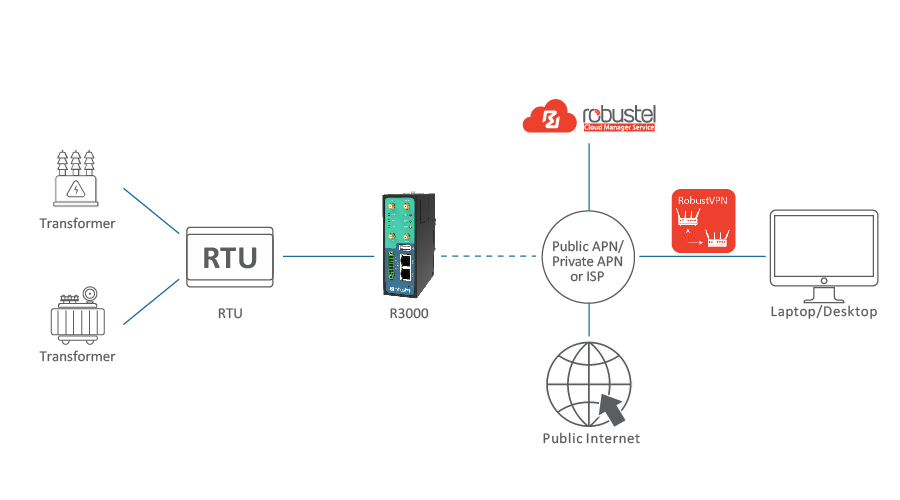 Robustel Benefits at a glance
Interface Support – Robustel routers have multiple serial and Ethernet interfaces as well as pulse counting digital inputs to provide a wide range of interfacing options.
Native Applications – Built-in Modbus RTU Modbus TCP converter – Robustel routers provide a very cost-effective connection to RS232, RS485 and supports Modbus Gateway, Modbus Master, IEC 60870-5-101 to 104, Modbus to DNP3 and more. Additional Apps can be embedded in devices to assist with "protocol translation" at the network edge.
'RobustVPN' – A unique networking solution from Robustel. Allows deployers to make a remote connection to any connected Ethernet using any SIM anywhere on the planet without the need for a static IP address.
Industrial Performance – Industrial operating temperature, over-voltage protection and robust housing make Robustel routers ideal for installation in harsh environments.
Dual-SIM Routers – Robustel routers come equipped with Dual-SIM slots and allow seamless switching between multiple carriers in the event of a network outage or signal loss.
Create your own application using RobustOS
All Robustel routers run the Linux-based, "RobustOS" operating system.
Because Robustel write the router Operating System in-house, Robustel's levels of tech support and software customisation far exceed the typical capabilities available in the market.
This means that users deploying Distribution Automation solution can develop a dedicated application for Robustel's routers to customise the product's behaviour to exactly meet the project's demands.
For critical applications intelligence can be placed at the network Edge inside the router to allow faults and exceptions to be handled immediately before the router needs to communicate to a cloud environment to get its next action; saving time, money and potentially lives in the process.
Cloud Device Management and VPN Access through RCMS
Robustel Cloud Manager Service (RCMS) is Robustel's custom IoT software platform and eco-system. Connecting your Robustel device to RCMS opens up a world of applications to make managing devices, connectivity and provisioning simple.
Use the Robustlink Device Manager App inside RCMS to instantly access your connected devices from anywhere. Allowing you remotely configure, update apps & firmware, debug error logs and view data usage at any time.
Use the RobustVPN App inside RCMS to create allocate one or many of your deployed devices to a VPN group which can they be accessed through the RobustVPN desktop application to access your deployed devices without the security risk of a public IP address or the need for private Static IP allocation from your carrier.