Guangzhou, China: 8 June 2022, Robustel today are glad to announce that our R1510 industrial cellular IoT gateway has been adopted by NTT DOCOMO, INC.. This milestone is major progress for Robustel on its mission to help customer's businesses in industries across the world to solve their connectivity problems with robust, secure and scalable IoT and M2M solutions.



Robustel industrial cellular IoT gateway R1510 and NTT DOCOMO INC. logo
Industrial cellular IoT gateway R1510 adoption background
NTT DOCOMO, INC. (hereinafter referred to as NTT DOCOMO) have developed a IoT service package called "DOCOMO IoT Managed Service", it is a service bundle combining communication devices, connectivity and maintenance in a complete service offering. This service has wide reaching applications beyond the IoT industry, functioning as an alternative solution for any customer using ISDN/PSTN and 3G networks as they are scheduled to be shut down in the future.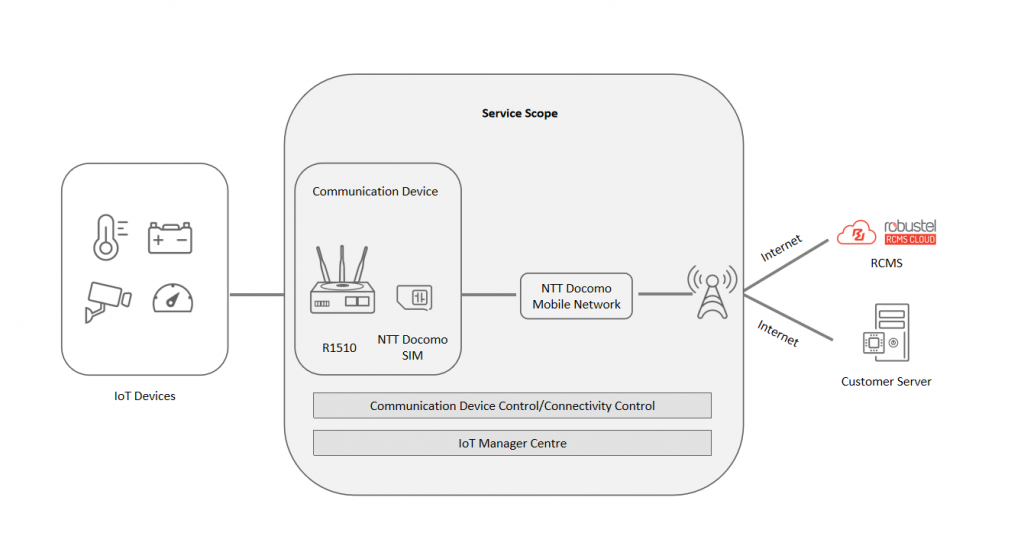 DOCOMO IoT Managed Service Lite
The Robustel R1510 IoT Router is an industrial LTE router offering cost competitive connectivity with various interfaces. With thousands of units regularly being shipped worldwide, the R1510 has been certified by over 20 mobile network operators (MNOs) in Japan, the United States, Europe, Southeast Asia, etc. Therefore, the router can be quickly deployed in IoT projects not only in Japan but also globally.
The R1510 offers an industrial ruggedized housing that can be used in harsh environments with an operating temperature range from -25 to 75°C. In addition to the two Ethernet interfaces it can also support digital input/outputs (DI/DO) as well as Wi-Fi in client and access point modes.
For more information about R1510, please visit https://www.robustel.com/product/r1510-industrial-cellular-vpn-router/
Robustel Cloud Manager Service (RCMS) Value Added
Robustel Cloud Manager Service (RCMS) is a modular IoT cloud software platform compatible with all Robustel products.
RCMS is designed from the ground-up to empower Robustel customers to build their IoT Solution(s) in a manner that is scalable, cost effective and can evolve quickly with the market.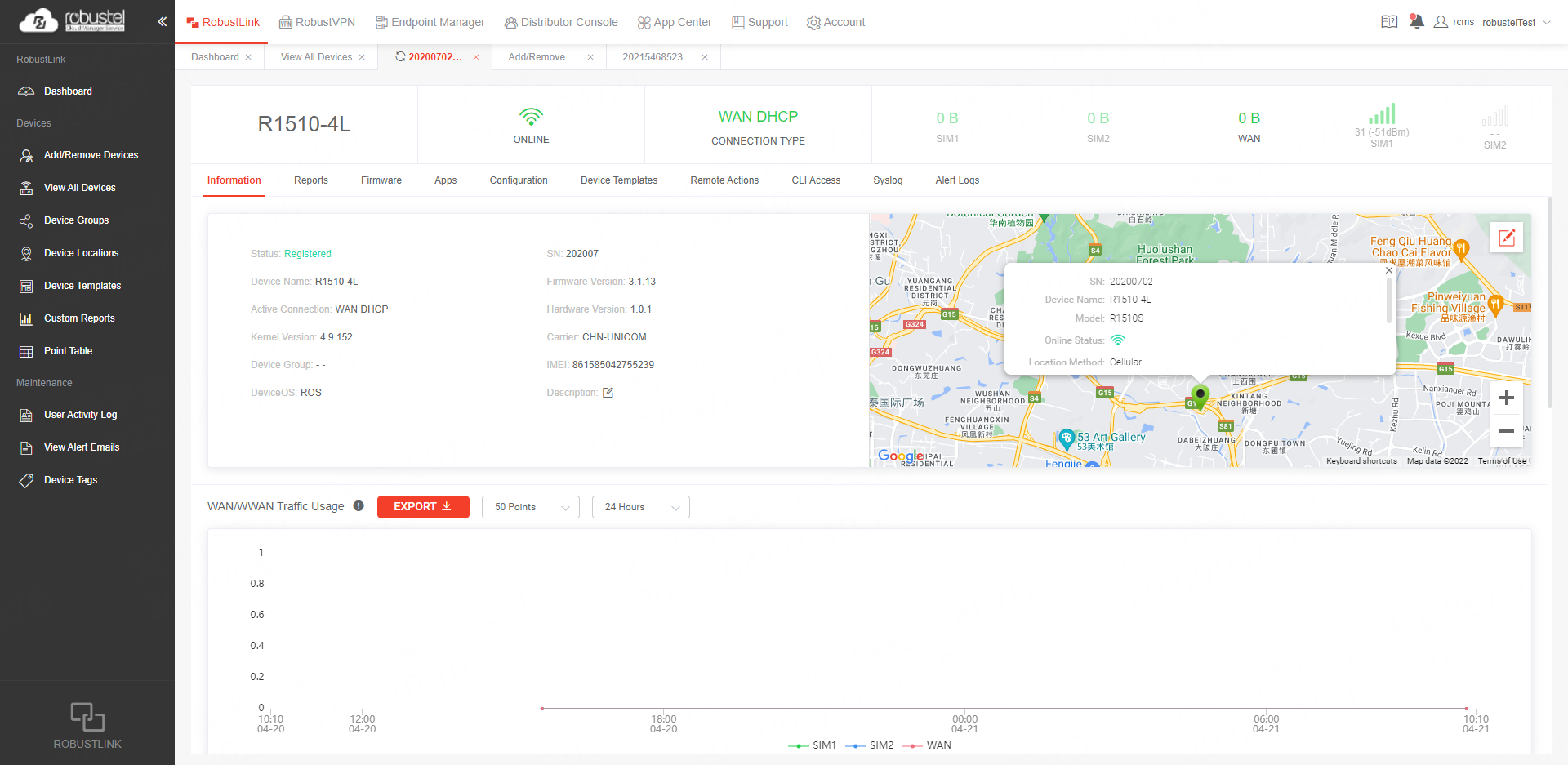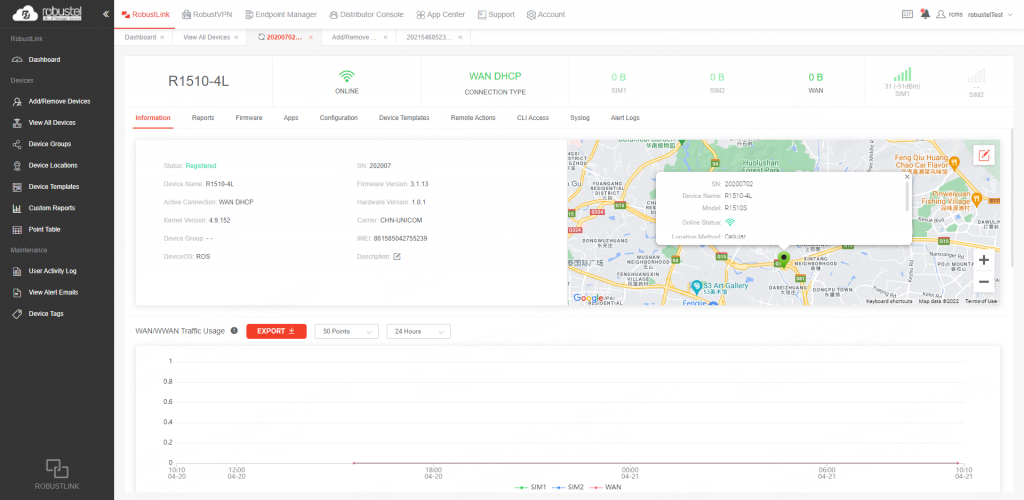 Robustel Cloud Manger Service (RCMS) 
Designed to work hand-in-hand with RobustOS, RCMS unlocks the true potential of Robustel products giving customers the ultimate range of monitoring, management and control functions.
With its modular design RCMS enables new APPs to be added to the platform without interfering with core behavior, to create new functionality and allow for integration with third-party applications.
For more information about RCMS, please visit https://www.robustel.com/robustel-cloud-manager-service/
Strong Local Support Ability
Together with our local distribution partner PALTEK Corporation (Headquarters: Kohoku-ku, Yokohama, CEO: Mitsuharu Fukuda, hereinafter referred to as PALTEK), we have also established a strong operational support system to match the service of NTT DOCOMO, offering local maintenance, warranty and support systems which have been a critical factor in the adoption of this solution.
About Robustel
Robustel design and manufacture industrial-quality wireless IoT Modems, Routers and Gateways for predominantly focused cellular (3G/4G/LTE/5G), Wi-Fi and LPWAN (Cat-M1/NB-IoT/LoRaWAN/Bluetooth) networks.
We also architect EDGE Computing, Cloud Software and end-to-end IoT Solutions to complement our hardware portfolio and provide fully-realised offerings for our customers.
As a global supplier of wireless IoT solutions, Robustel works with over 70 distribution partners. We service more than 100 countries, and maintain a dedicated local presence in Germany, Australia, Japan, UK, Hong Kong and the Netherlands.
We nurture long-standing relationships with global enterprises and mobile network operators looking to find a competitive edge in the high-growth IoT market.
About PALTEK CORPORATION
Since its foundation in 1982, PALTEK has been selling domestic and overseas semiconductor products to Japanese electronics manufacturers, as well as providing contract design services for hardware and software. As a partner in product development, we have been devoted in prototyping from specification studies and support development and mass production. PALTEK will contribute to the customer development by providing optimal solutions based on our corporate philosophy of "coexistence with diverse beings." From June 2021, PALTEK has become a group company of Restar Holdings Corporation.
For more information about PALTEK, please visit https://www.paltek.co.jp
Other Notes
"DOCOMO IoT Managed Service Lite" is a trademark of NTT DOCOMO, INC. in Japan and other countries.
NTT DOCOMO's "DOCOMO IoT Managed Service Lite" service is only available to subscribers in Japan.