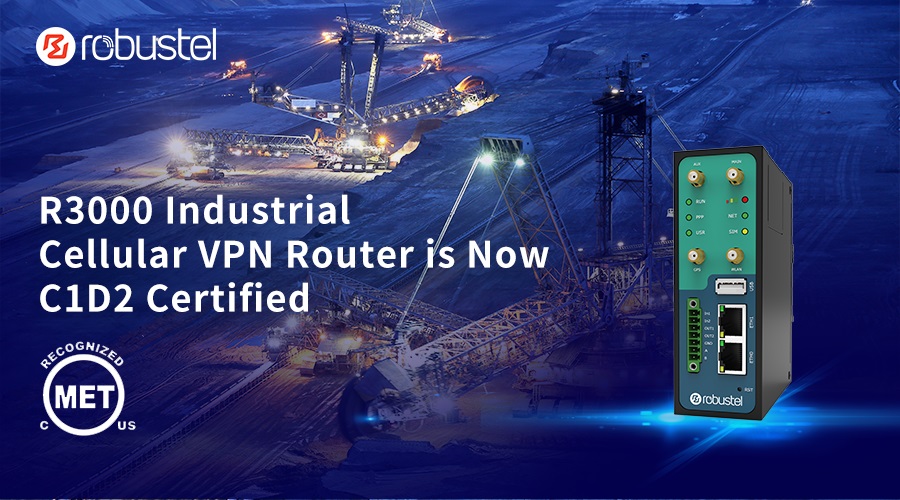 Robustel are pleased to announce that its R3000 industrial cellular VPN router is now C1D2 (hazardous Class I, Division 2) approved and certified for use in United States and Canada. This certification means that the R3000 has been tested and found suitable to meet the stringent safety requirements of operating telecommunications equipment in hazardous locations.
"There have been significant challenges bringing Robustel's brand of industrial wireless communications solutions to our customers operating in environments with a high risk of fire or explosion (hazloc)" said Sampo Tang, Director of Product Center at Robustel. "The now certified intrinsically-safe R3000 creates opportunities for a variety of industries – including petrochemical, manufacturing, utilities, aboveground mining and oil & gas; Providing remote connectivity to connected devices anywhere in the operation site for monitoring and control."
The R3000 is a rugged, dual-sim, industrial cellular VPN router. Offering state of the art mobile connectivity for machine to machine and internet of things applications. Designed to save operating costs by removing the need for a fixed line installation; The R3000 provides a reliable IP based cellular connection over 4G & 3G with dual SIM cards for redundancy.
About Robustel
Robustel are one of the world's leading manufacturers of industrial quality solutions for the IoT and M2M market. Robustel's portfolio of award-winning solutions are comprised of: Wireless Modems, Routers, Gateways, EDGE Computing, Cloud Software and End-to-End IoT solutions.
Robustel are committed to helping businesses and industries across the world continue to solve their IoT & M2M problems with robust, secure, scalable and creative solutions from hardware to complete 'IoT in a box' services. We are Robustel, and our goal is to Make Things Connected.