Overview
Telemedicine is an increasingly popular method of providing medical care remotely. From real-time health monitoring and preventive care, to enabling elderly and disabled patients to receive a better quality of treatment, Telemedicine means care happens in the home. Backed by IoT sensing and communication technology, Telemedicine provides a huge opportunity to  improve medical care globally.
The major benefits of Telemedicine empowered by the IoT are:
Rapid Delivery & Fidelity of Information: Enabling sensor technology to directly report readings back to a medical professional significantly reduces the time taken to get patient information. It also reduces the risk of human error when recording readings.
Reduced Costs & Increased Comfort: Medical practice costs can be significantly reduced by giving medical staff the ability to communicate with – and perform select tests on – remote patients. Telemedicine also positively impacts the cost of patient transportation, preparing consulting spaces and storing equipment. From the patient's side, the ability to be constantly monitored by, (and speak to) a clinician from home when needed improves comfort levels. It has the added benefit of reducing the risk of infection when travelling to and from the medical facility.
Robustel and our global partners can provide either partial or complete end-to-end solutions. This includes, but is not limited to; connecting cameras, screens, sensors such as blood pressure and heart rate monitoring cuffs, glucometers, etc.
These can all be connected to a Robustel gateway, which enables medical professionals to hold remote appointments even in the most challenging locations.
One of our recent success stories involved helping an orthopaedics rehabilitation provider build a secure network connection. Now the therapist can remotely access the device to monitor their patient's recovery from knee surgery. They can provide detailed guidance, allowing the patient to recover and rehabilitate from home.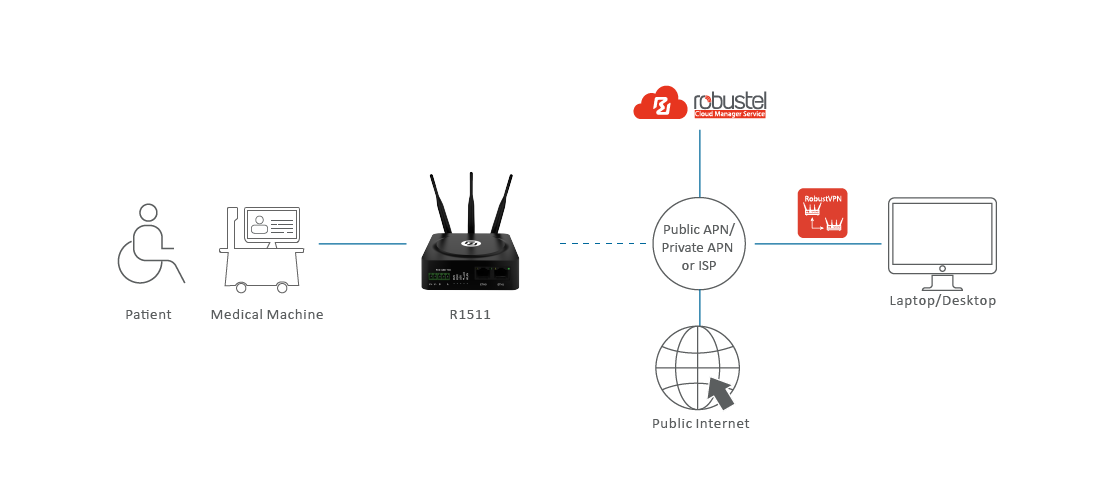 What are the benefits of partnering with Robustel to deploy Telemedicine Solutions?
Robustel Benefits At-A-Glance
Real-time Monitoring: Medical devices leveraging Robustel technology can provide remote patient monitoring in real time, with always-on and always-aware connectivity.
Outbound Internet: Robustel's 3G/4G routers can be configured to provide outbound internet access, as well as inbound connections to specific Controllers/devices.
Security: Supporting private network APN, VPN and firewall settings, our solutions ensure the secure transmission of data
Simple Installation: Plug-and-play for extensive LTE access can greatly reduce deployment costs.
Create your own application using RobustOS
All Robustel routers run the Linux-based, "RobustOS" operating system.
Robustel write our router Operating Systems in-house. This attests to our levels of tech support and software customisation, which far exceed the typical capabilities currently available in the market.
This means that users deploying Telemedicine solutions can develop a dedicated application for Robustel's routers. You can  customise the product's behaviour to exactly meet your project's demands.
Intelligence can be placed at the network Edge for critical applications, enabling faults and exceptions to be handled immediately. Catching issues before the router communicates with a cloud environment could save time, money and potentially lives in the process.
Cloud Device Management and VPN Access through RCMS
Robustel Cloud Manager Service (RCMS) is Robustel's custom IoT software platform and eco-system. Connecting your Robustel device to RCMS opens up a world of applications to make managing devices, connectivity and provisioning simple.
Use the Robustlink Device Manager App inside RCMS to instantly access your connected devices from anywhere. This allows  you to remotely configure, update apps and firmware, debug error logs and view data usage at any time.
Open the RobustVPN App inside RCMS to allocate one or many of your deployed devices to a VPN group. Then, simply use the RobustVPN desktop application to access them. Now you can manage your devices without the security risk of a public IP address, or private Static IP allocation from your carrier.