Overview
Whilst many utility meters have cellular communications as an integrated option there are still a lot of instances where a separate cellular router such as the 3G/4G routers supplied by Robustel are required. Broadly, these are:
Certification - Robustel's routers are approved globally whereas some meters and/or DCUs (Data Concentrator Unit) will not have appropriate Telecomms approvals for certain regions
Future-proofing - Many meters are still 2G only and despite the promise of NB-IoT as a solution in future, the end of life of legacy cellular networks shuld be considered in new deployments
Disparate protocols - With many metering protocols such as DLMS (Device Language Message Specification), Modbus and M-bus, there may be a limit to the types of DCU available for a specific application. This may force the use of an Ethernet only DCU and hence the addition of a 3G/4G router is essential.
Robustel have recently won a 2000 site metering project in the middle east using a variety of 4G routers from the R3000 series of products. Projects such as this have built extensive in-house knowledge, something that could be very useful when specifying your next deployment.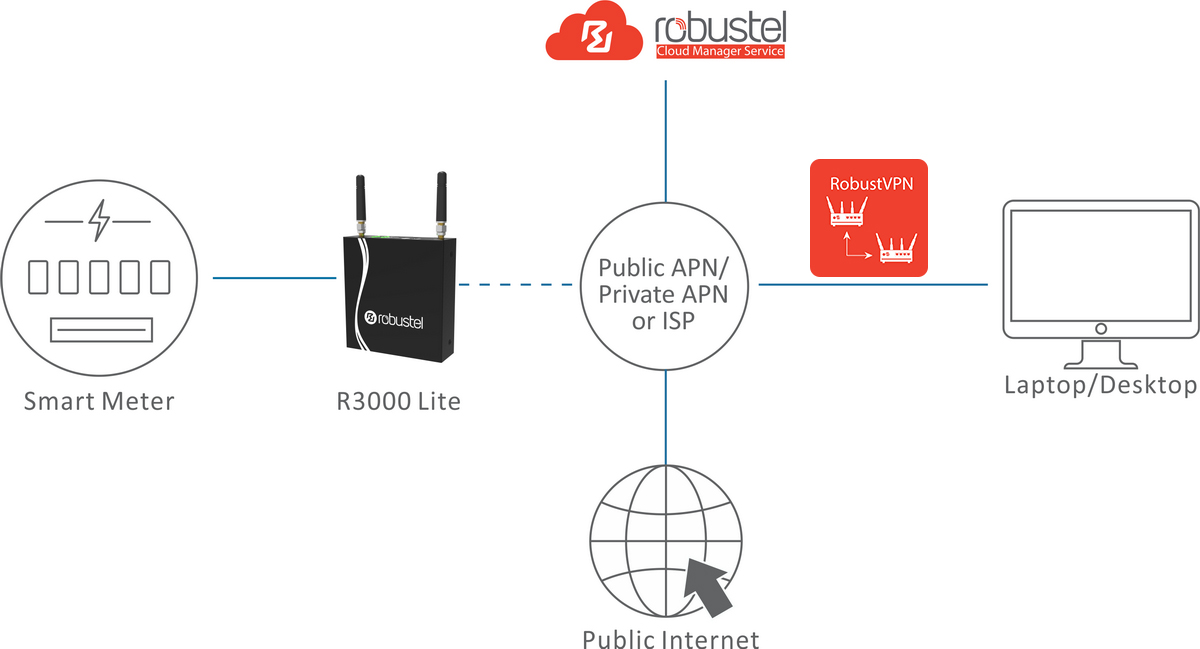 What are the benefits of partnering with Robustel to deploy smart metering Solutions?
Robustel Benefits at a glance
Interface Support – Robustel routers have multiple serial and Ethernet interfaces as well as pulse counting digital inputs to provide a wide range of interfacing options.
'Smart Roaming' – unique intelligent network selection algorithm designed to optimise the performance of roaming / multi-network SIMs.
Native Applications – Built-in Modbus RTU Modbus TCP converter - M1200 intelligent modem provides very cost-effective connection to RS232, RS485 or Modbus devices - an application can be embedded to assist with "protocol translation"
Global Certifications - Global certifications for Robustel 3G/4G routers in North America, Europe, Asia-Pacific and more - please enquire for full details.
'RobustVPN' – A unique networking solution from Robustel. Allows deployers to make a remote connection to any Ethernet or serial device directly using any SIM anywhere on the planet without the need for a static IP address.
Create your own application using RobustOS
All Robustel routers run the Linux-based, "RobustOS" operating system.
Because Robustel write the router Operating System in-house, Robustel's levels of tech support and software customisation far exceed the typical capabilities available in the market.
This means that users in the Smart Metering market can develop a dedicated application for Robustel's routers to customise the product's behaviour to exactly meet the project's demands.
An example of such an application would be to add a Modbus RTU master to the router that is designed to capture Modbus values from connected equipment, log them locally in case of network outage then transfer required data to a server in the cloud using the required protocol for data ingestion by the server eg. MQTT or CoAP.
Cloud Device Management and VPN Access through RCMS
Robustel Cloud Manager Service (RCMS) is Robustel's custom IoT software platform and eco-system. Connecting your Robustel device to RCMS opens up a world of applications to make managing devices, connectivity and provisioning simple.
Use the Robustlink Device Manager App inside RCMS to instantly access your connected devices from anywhere. Allowing you remotely configure, update apps & firmware, debug error logs and view data usage at any time.
Use the RobustVPN App inside RCMS to create allocate one or many of your deployed devices to a VPN group which can they be accessed through the RVPN desktop application to access your deployed devices without the security risk of a public IP address or the need for private Static IP allocation from your carrier.