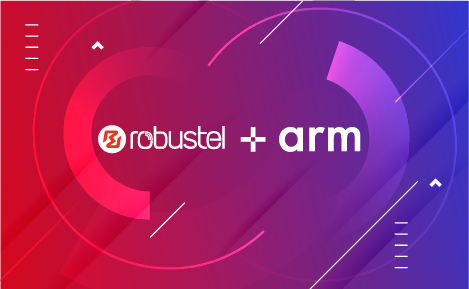 Robustel, one of the world's leading manufacturers of industrial quality routers and gateways for IoT and M2M solution development, have formed a partnership with Arm®. The partnership is designed to offer the global market fast and scalable IoT solutions powered by Arm® Mbed™ OS and the Pelion™ IoT platform.
The partnership allows Robustel and Arm to offer end-to-end IoT solutions to customers from a variety of IIoT verticals. By combining a customized cloud platform, unparalleled network connectivity through Robustel's range of gateways with a host of edge IoT devices, Robustel and Arm empower customers to implement advanced IoT strategies seamlessly.
Device, end-point and connectivity management is facilitated through Arm Pelion IoT platform; Pelion helps users configure, monitor and control your devices in real-time with advanced visualization and reporting functions. This is especially critical in large-scale IoT deployments as it enables rapid response times across diverse geographical & communication challenged areas.
Mbed OS and Pelion IoT platform provides the operating system, cloud services, tools and developer ecosystem to make the creation and deployment of commercial, standards-based IoT solutions possible at scale.
The Pelion IoT platform is a flexible, secure, and efficient foundation spanning connectivity, device, and data management. It accelerates the time to value of IoT deployments by helping customers easily connect trusted IoT devices on global networks, invisibly administer them, and extract real-time data from them to drive competitive advantage.
"We are thrilled to announce this partnership! By leveraging our track-record of excellent delivery with Industrial IoT solutions, with Arm's expertise in the embedded world this partnership will simplify and accelerate global IoT deployment for our customers." said Mr. Tao Yang, CEO at Robustel.
Ray Chen, Head of IoT Service, China said: "Robustel is one of our key industrial gateway partners in China. Gateway solution plays a critical role in the IoT ecosystem. We believed our other partners will be benefited from Robustel's reliable products and strong R&D capability to design applications for various verticals easily. The partnership with Robustel via Arm's Pelion IoT platform will help our partners in the ecosystem quickly deploy their IoT solutions, domestically and internationally. "
About Robustel
Robustel is one of the world's leading manufacturers of industrial quality solutions for the IoT and M2M market. Robustel's portfolio of award-winning solutions are comprised of: Wireless Modems, Routers, Gateways, EDGE Computing, Cloud Software and End-to-End IoT solutions.
Robustel are committed to helping businesses and industries across the world continue to solve their IoT & M2M problems with robust, secure, scalable and creative solutions from hardware to complete 'IoT in a box' services. We are Robustel, and our goal is to Make Things Connected.