By Robustel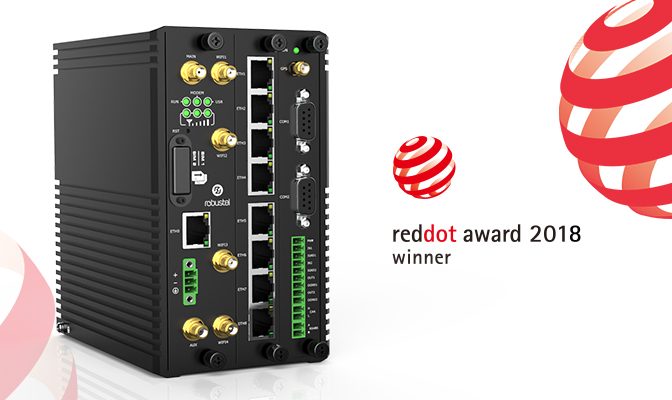 red dot award product design
Munich, Germany, April 11, 2018 – Robustel is pleased to announce that its Modular Edge Computing Gateway MEG5000 has received the Red Dot Product Design Award for 2018 in the Communication Technology category.
 
The Red Dot Design Award is one of the world's most renowned and respected awards for product design. In 2018, designers and manufacturers from 59 countries submitted more than 6,300 objects to the competition. The strict judging criteria, which include level of innovation, functionality, formal quality, ergonomics and durability, provide a frame of reference which the jurors then complement with their own expertise.
 
MEG5000 Modular Edge Computing Gateway for Internet of Things (IoT) features high speed data processing capability. It features three scalable cards, supporting various interfaces on customization to meet changing demands for industrial IoT applications, including sectors like Industrial Automation, Industry 4.0 and Industrial Communication.
 
Yi Huang, Vice President of Robustel, stated "Winning Red Dot Award in Germany means that the industry highly recognizes Robustel's innovation capabilities in the Industrial IoT field and the efforts of our dedicated design team who defined a new level of intelligent connection for our users."
 
The MEG5000 will be featured in the Red Dot Design Yearbook for award-winning design 2017/2018, coming out on July 3. It will also be displayed in the the exhibition "Design on Stage – Winners Red Dot Award: Product Design"in the Red Dot Design Museum in Essen, Germany.
 
For more information on MEG5000, please visit:
https://www.robustel.com/products/modular-Edge-Gateway/meg5000-modular-edge-gateway.html
 
 
About Robustel
Robustel is a leading industrial IoT and M2M hardware and solution provider. Since its establishment in 2010 in Guangzhou, China, Robustel has been providing industrial cellular routers, gateways, modems, cloud platforms, and E2E solutions to customers in more than 100 countries worldwide. The company´s solutions aim at smart grids, oil & gas, the financial sector, security & surveillance, industrial automation, eHealth, and many other industries. Robustel has local offices in Germany, Australia, Japan, UK, the Netherlands and Hong Kong. Customers include leading mobile operators such as AT&T, China Mobile, Deutsche Telekom, Rogers, SingTel, Vodafone, etc.