Robustel, one of the world's leading manufacturers of industrial quality solutions for the IoT and M2M market, are pleased to announce that the company has been successfully appraised by the CMMI Institute. Resulting in Capability Maturity Model Integration (CMMI) for Services Maturity Level 3.
Among the highest form of third-party validation, the CMMI Institute's maturity levels are recognized as a measure of a company's ability to reliably deliver services and solutions. As a world-renowned capability and performance improvement framework, CMMI provides with the essential elements of effective processes that ultimately improve the performance.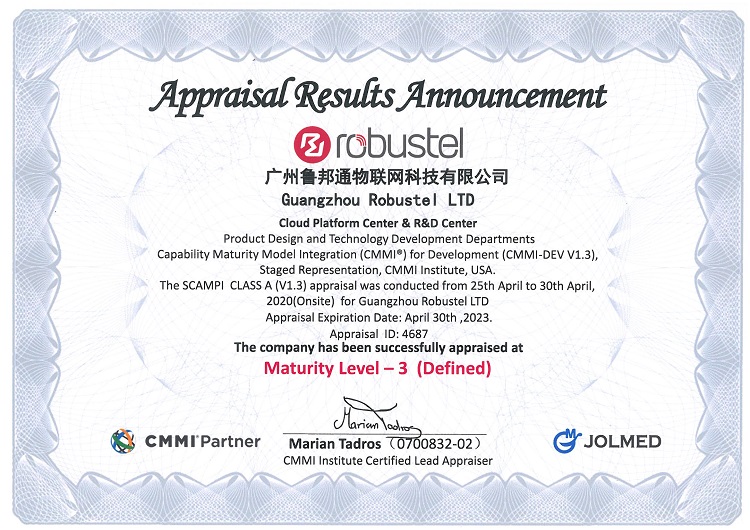 Obtaining this appraisal indicates that Robustel is performing at CMMI's "Defined" level, and is able to execute large-scale, complex projects on time, within budget, and with clear and predictable results, based upon well-characterized and understood processes supported by standards, procedures, tools, and methods.
It also indicates that Robustel's engineering processes have been evaluated for Decision Analysis and Resolution, Integrated Project Management, Organizational Process Definition, Organizational Training, etc. With the CMMI guidance framework, Robustel's passionate team will continue to better develop its products and services via excellent technology and use of the global best practices model.
About Robustel
Robustel is one of the world's leading manufacturers of IoT and M2M market. Founded in 2010 in China, Robustel has been concentrating on producing the highest quality IoT products possible. As a supplier of wireless IoT hardware Robustel works with over 50 distribution partners servicing more than 120 countries and maintains a dedicated local presence in: Germany, Australia, Japan, UK, US, the Netherlands and Hong Kong.
Maintaining an ISO9001:2015 Quality Management system and a sophisticated approach to quality control, planning, assurance and improvement has seen Robustel granted with numerous global certifications, including: CE, E-Mark, FCC, PTCRB, AT&T, Verizon, Anatel, IC, Rogers, GCF, TRA, RCM, iDA, NBTC, Postel, Sirim, CCC and Telec.
For more information visit https://www.robustel.com/ or mail your queries at info@robustel.com