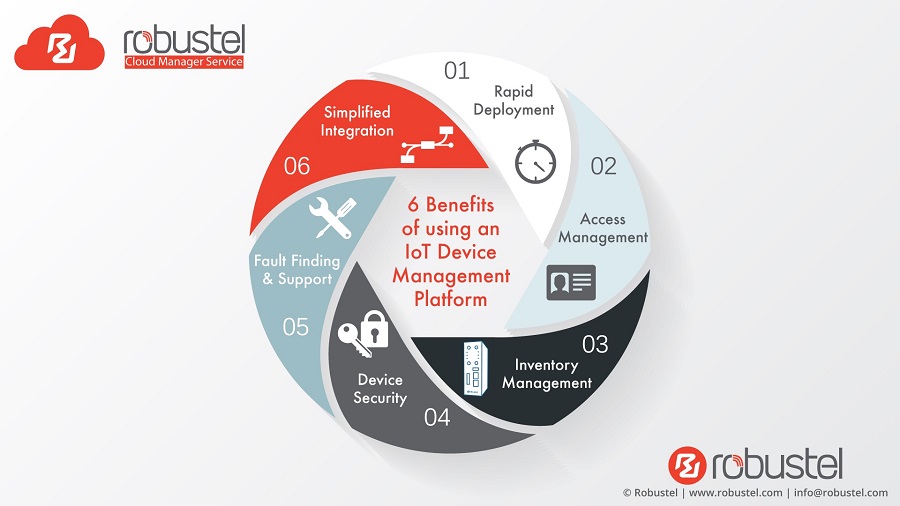 As the sheer scale of massive global IoT grows, it reaches towards the potential touted by industry experts in the early 2000s. Successful early adopters are now being met with the stark reality of having a disparate fleet of devices spread across different vendors, geographies and applications. The risk of this reality then becomes a mounting cost for manual device management, reconciliation and support, which can soon outweigh the original benefits envisioned by adopting IoT principals in the first place.
Luckily these risks can be mitigated through the use of an IoT Device Management Platform. These can come in a variety of offerings; from single vendor owned, open source, device agnostic ERP style platforms, and more.
These days every IoT vendor worth their salt has IoT Device Management as part of their overall offering and Robustel are no different, with the launch of Robustel Cloud Manager Service (RCMS) being made available to all Robustel users in May of 2019 (For more information on RCMS click here).
This article is designed to give anyone planning their IoT strategy an insight into making an IoT Device Management Platform the cornerstone of your deployment. Whether you chose to use Robustel or another vendor for your overall deployment, these benefits should not be overlooked, lest you find those meticulously modelled IoT returns slowly shrinking.
Benefit 1 – Rapid Deployment
One of the first challenges most companies face when deploying remote devices is the cost associated with having trained staff in the field programming and configuring them. These costs are then increased exponentially when you start factoring in deployments in other countries, and into areas with strict regulatory and security policies.
By using a device management platform, you can ship a piece of hardware anywhere in the world and – as long as it can reach the internet – a trained technician can manage the configuration of that device remotely.
Some vendors like Robustel take that one step further by offering a 'Zero-Touch' configuration method like the Device Templates feature in RCMS. This allows customers to pre-configure hardware with their chosen settings, firmware and applications, and as soon as the device connects to the internet it will download that profile automatically, meaning it can be installed by anyone without any need for technical knowledge (Apart from connecting the device to power).
Benefit 2 – Access Management
While the world of cyber security is becoming more and more complex, there are still a staggering amount of risk and security issues that can be avoided just by making sure only authorised personnel have access to a device. Having remote access means a deployer can block or restrict any physical access points like USB, ethernet or serial ports until absolutely necessary, and manage all device functionality virtually via the platform.
By creating authorised users on your device management platform, you can easily allow or restrict access to core device functions and data from a central point. Taking this one step further, most platforms now allow you to export activity logs so in the event of a security breach the source can be found instantly and removed or blocked permanently.
Benefit 3 – Inventory Management
A frequent problem faced in the early days of M2M & IoT deployments was that a lot of device data was recorded in spreadsheets, or in multiple locations. So, as staff members changed and records shifted, devices became lost or orphaned. Using a Device Management Platform provides another layer of inventory management where all deployed equipment in the field can be recorded along with their firmware, installed applications and configuration so they can be found easily.
Some platforms like RCMS from Robustel also include a geo-location function, allowing you to pinpoint your IoT devices on a map either via GPS or cell tower triangulation.
Benefit 4 – Device Security
Securing physical access to your devices is critical – a 2017 study from the University of Maryland found that there is a hacker attack on an internet-connected device every 39 seconds! This means the likelihood of security flaws in operating systems, and edge applications being exploited has exploded exponentially.
Much like mobile devices, computers and tablets requiring software and firmware updates for security IoT devices also need to update from time to time to make sure flaws can be patched out successfully. Traditionally this has been done by flashing firmware using a connected computer via USB or Ethernet – now it's possible to deliver an update to applications or firmware Over-the-Air (OTA).
RCMS from Robustel allows you to not only update Firmware, Applications and Configuration files remotely on a per device basis, it can also be performed on a group or batch of devices, which makes securing a deployment of several thousand devices in varying locations as easy as pressing a button!
Benefit 5 – Fault Finding & Support
As your device fleet grows, the need to be able to check the performance of your devices goes from being an occasional task to something that needs to be constantly monitored.
As your devices expand into the thousands, having a clear dashboard and alerting system becomes critical to setting up an effective support centre.
A good Device Management Platform will let you see the status of your devices in real time, offering a host of tools and reporting functions to allow you to diagnose issues as quickly as possible. With increased complexity in IoT deployments, the numbers of 'links in the chain' that can break grow. When a device stops working, is it network related, environmental, hardware or software? Getting clear reports and alerts from your platform can help diagnose these issues without a technician needing an on-site visit.
RCMS from Robustel offers a comprehensive suite of reports and alerts that can be configured on an individual or group level, allowing your support staff to know instantly when a device or group of devices fail, and have access to the correct reports to diagnose the fault with ease.
Benefit 6 – Simplified Integration
While an IoT Device Management Platform is incredibly useful on its own, it's never usually the only piece of your IoT deployment puzzle. Device data often needs to be sent to multiple locations and parsed by various other pieces of software. When investing in device management software you need to make sure that there is a level of interoperability between the devices you are deploying in the field and the platform(s) you will be using.
As a standard practice most platforms will offer you an OpenAPI for integrating other software platforms quickly. Some platforms like RCMS from Robustel also offer specific integrations into approved third-party environments like Microsoft IoT Hub, allowing the platform to act as a bridge between machine and sensor data and third-party software.
Conclusion
As your IoT deployment grows, and environments and applications become more complex, making sure you have an IoT Device Management Platform is critical. It's important to work with a vendor that allows you the freedom to implement a platform as soon as you start, without charging substantial fees for a deployment that may not realise a return on investment for a year or more.
That's why RCMS from Robustel is available completely free of charge for monitoring and reporting purposes for all customers with any number of devices, allowing you to set up good reporting and management habits (without incurring any significant expense) from day one.   
If you are already using Robustel devices you can set-up a free RCMS account by clicking here or Contact Us today to speak to one of our IoT Solutions Architects or Distribution Partners in your region.