The consumer demand for fast and convenient shopping has never been higher. In the race to capture shoppers' attention and stay competitive, retailers are deploying a suite of new, innovative solutions.
IoT machines and wireless solutions are being used to meet the needs of customers, while also increasing revenue and reducing overall costs. One of the most popular strategies is automated retail systems. A standalone smart kiosk or smart vending machine is used in place of a traditional store, offering customers the freedom to purchase what they need, when they need it. From food and beverage vending machines to ticket payment machines and services like airport check-in, smart retail kiosks and vending machines are changing the way consumers shop.
Robustel's wireless solutions keep you connected to your vending machines and retail kiosks, allowing you to monitor and adjust your services from a remote location.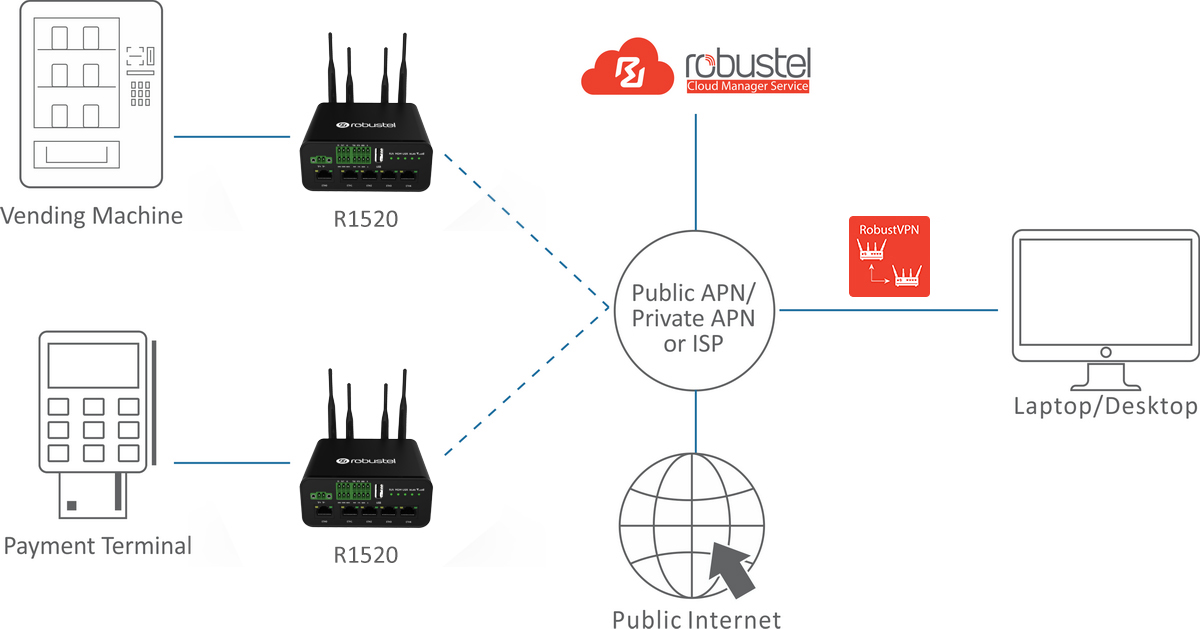 Smart vending and kiosk technology
Digital technologies, such as touchpads and touchless displays, retail vending machines and smart kiosks, offer easy, interactive purchasing to customers. They also provide retailers with a range of benefits, including the ability to:
Process rapid and secure transactions at any location.
Reduce stock loss with built-in security controls.
Monitor environmental conditions to ensure perishable items maintain their quality.
Easily track and manage inventory to keep the vending machine stocked
Utilise remote kiosk monitoring to stay on top of maintenance and be alerted to any issues quickly.
Make efficient decisions using real-time data.
Easily install new vending and kiosk solutions in high-traffic areas to meet customer demand while expanding business.
Robustel's 3G/4G routers are the perfect tool to equip your machine with internet access. Their ports connect to devices like media players and PCs that smart vending machines and kiosks rely on.
Smart vending solutions
Vending machines aren't a new technology.– food and beverage vending has been a shopping centre staple for years. However, smart vending solutions have come quite a way. Controlled by a computer, and supported by a cloud-based management system, connected vending machines have evolved dramatically.
Smart vending machines work around the clock and allow retailers to reach customers in new ways. Equipped with scales and conveyor belts, products of all shapes and sizes can be dispensed – from your basic food to electronics, like headphones.
Robustel routers have multiple serial and Ethernet ports that connect you to a vending machine's different subsystems. You can stay connected to your smart vending solutions from any location with Robustel's RCMS IoT software platform. Connect your Robustel device and you'll be able to manage your machine without needing to be onsite.
Smart kiosk solutions
Kiosk technology has been in use for years in the form of airport check-ins, ATMs and even at tables in restaurants for paying the bill. However, advancements in kiosk computers and hardware have taken kiosks to a whole new level. There are now kiosks to simulate what a shirt would look like on you in a different colour, or how a vase of flowers would look in your home!
From a business perspective, kiosks not only help improve the customer's experience, they can also be used to:
Free up resources and human workers.
Schedule orders and keep stock of inventory.
Provide up-to-date information about marketing campaigns.
Using Robustel's RCMS IoT software platform you can create 'Zero-Touch' provisioning profiles. These profiles deliver configuration and networking settings directly to your smart vending solutions as soon as they connect to the internet making national or even international deployments simple.