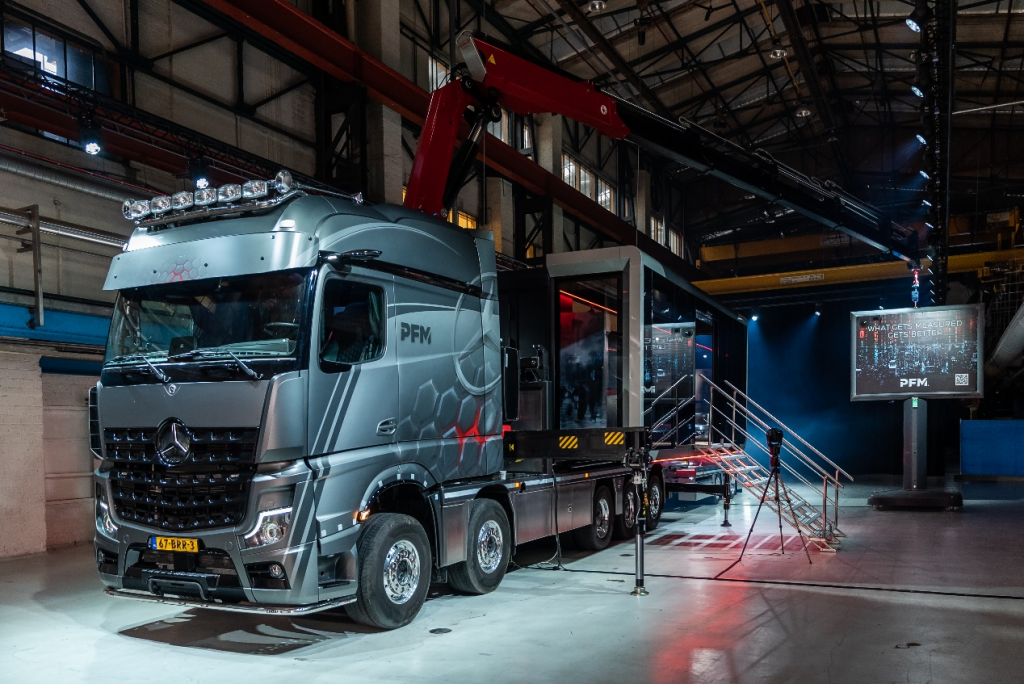 The launch of the PFM Experience Centre
ABOUT PFM:
The PFM Intelligence Group is an organisation with various disciplines and a wide variety of clients, all with a focus on People Flow Management, by creating actionable data insights that translate into improvements in business performance.
PFM works directly with clients across a range of sectors by offering a highly experienced team to design, procure and manage the implementation of ICT, Audio Visual and Intelligent Building technology. Throughout the years PFM added offices in several countries and collaborated with partners in order to expand our business globally.
After acquiring CoreTech Solutions, the market leading IT infrastructure provider of the UK retail property sector, PFM became a significant player in integrated technology systems, focusing on complex consumer data insights to create business critical market intelligence that helps clients navigate the challenges of the retail and infrastructure sector, by mapping and analyzing visitor flows in shopping centers and shops, among other places. Their technologies have been applied over 35,000 shops, 30 transport hubs, 450 shopping centres and 600 streets, serveing many international clients, like Asics, Perry, De Bijenkorf, C&A and Lush.
BACKGROUND:
'Data beats emotion', says Michel l' Amie, IT & innovation manager at PFM . 'You can have the feeling that it [retail store] has been busy, but if the turnover subsequently falls behind, it is useful to know why that is the case.'
To provide better insight into the possibilities of, for example, the use of heat mapping, the mixing and analysis of data and gender identification, the company recently launched the PFM Experience Centre. This is not just an innovative and comprehensive analysis center, but one on wheels as compact Mercedes-Benz drawbar trailer truck. The Experience Centre has been fully operational since its launch in mid October 2021 and PFM plans to demo the Retail Analytics Solution by travelling across Europe to demonstrate it to clients and at international events.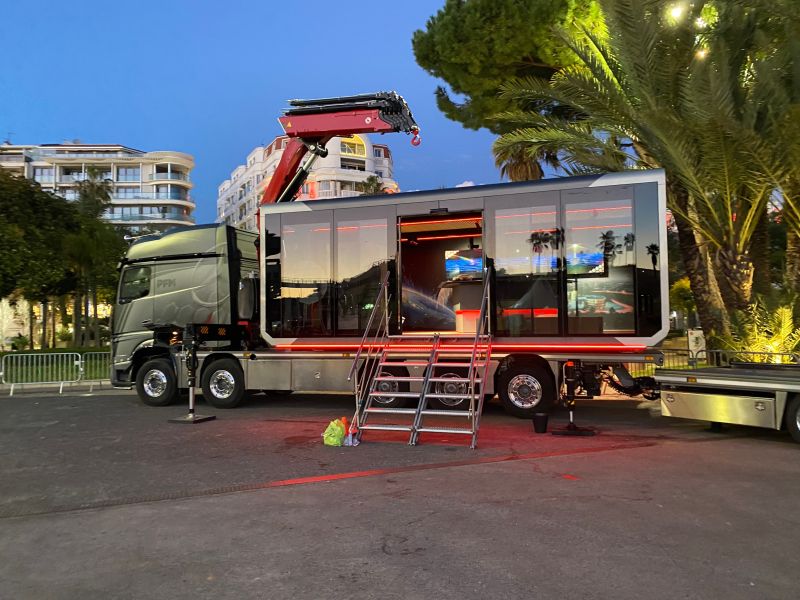 PFM showcases Retail Analytics in its Experience Centre at MAPIC - The international retail property market event in Cannes, France
'We think it is important to provide our customers with good insight into the entire experience and scalability', emphasizes Bart Schmitz, CEO of PFM. 'There has to be room to do our presentation, we have to bring equipment and everything has to be installed. It is therefore much more convenient to take our equipment in our Experience Centre.'
To enable real-time communication between on-site sensors and PFM's cloud platform, PFM chose Robustel 5G routers which were supplied on the advice of Robustel's local channel partner Delmation.
SOLUTION:
PFM have been active for almost 40 years and that they have been specialising in full-automatic measuring by means of sensor and camera techniques since 1993. The truck combination allows them to pitch their modern approach with real-time censoring on site and in practice.
PFM has installed different types of camera, sensor, radar and laser to the big digital billboard loaded on the trailer of the truck. Once they arrived in the shopping centre, the billboard can be placed inside to collect all sort of people flow data in huge volume, then transmitted to the Experience Centre via Robustel 5G IoT router R5020 to the 5G cellular network.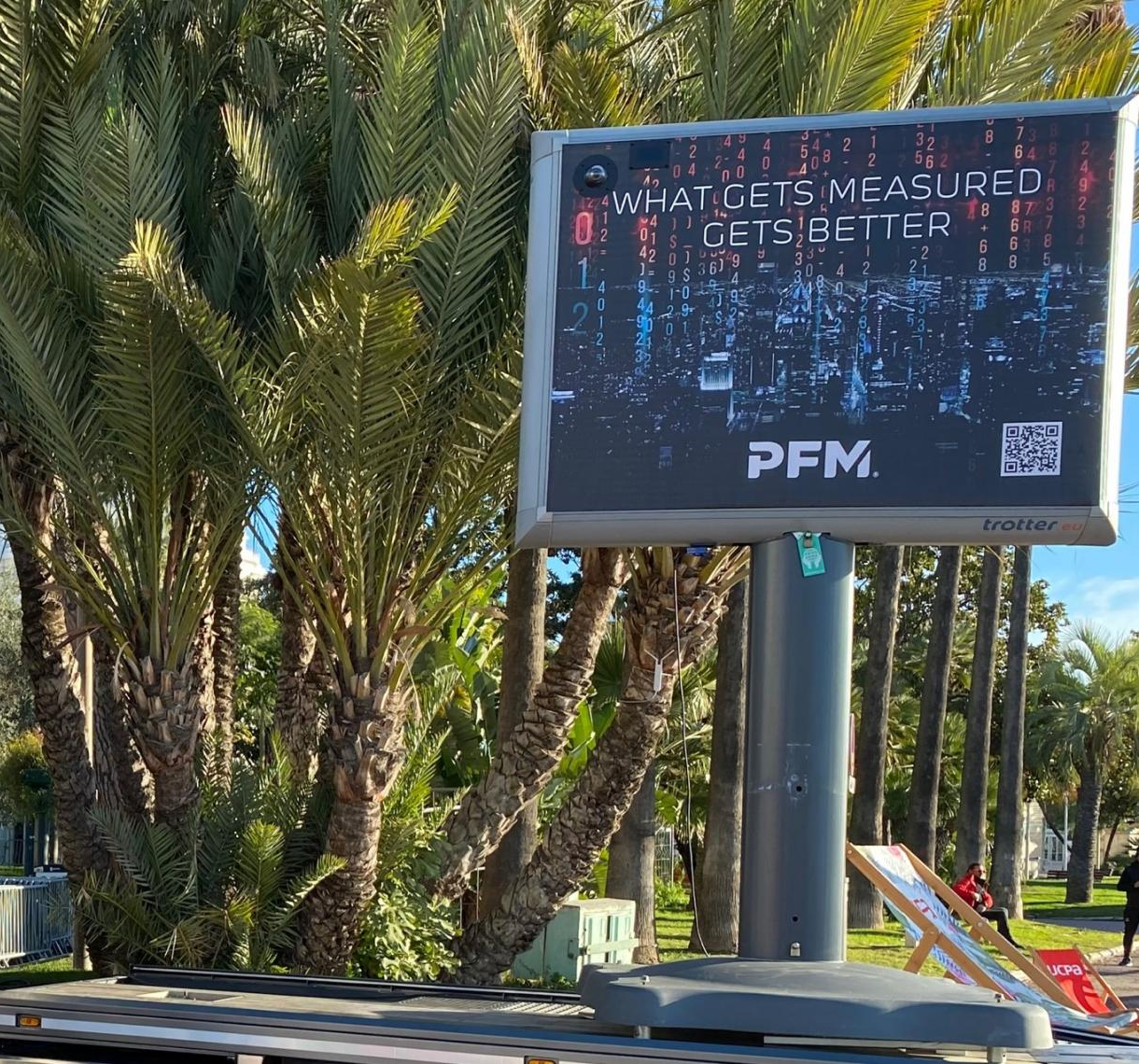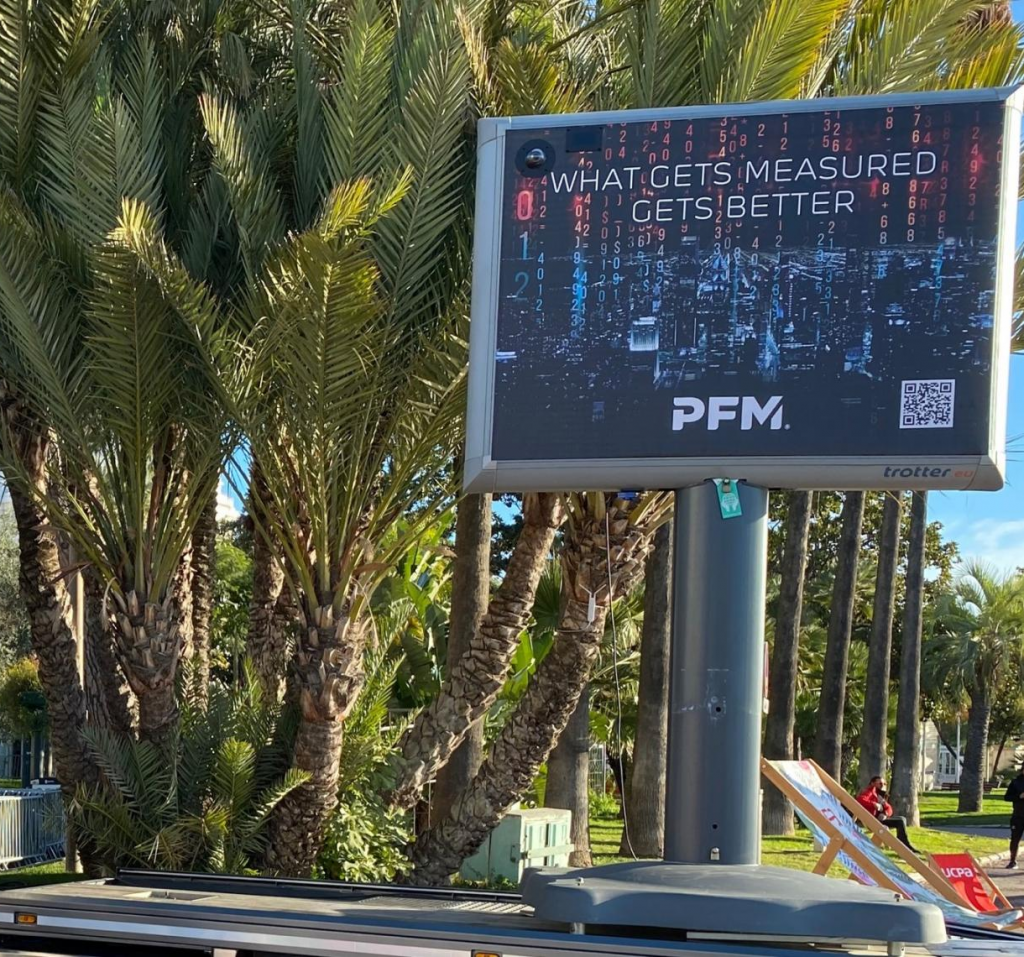 PFM'S Digital Billboard
'In order to be able to do all our analyzes as quickly and effectively as possible, the data generated by the equipment in the Experience Centre is processed in real time and provides unique insights. Of course we needed solid routers for that. Thanks to our two Robustel R5020 5G routers, more than 100 devices are connected from the Experience Centre. They are user-friendly devices and they are regularly updated. Also the service is perfect. The request for a custom adaptation to the captive portal app was realized within a very short time by the Robustel development team.' said Schmitz.


PRODUCTS USED IN THE CASE:
R5020 5G IoT Router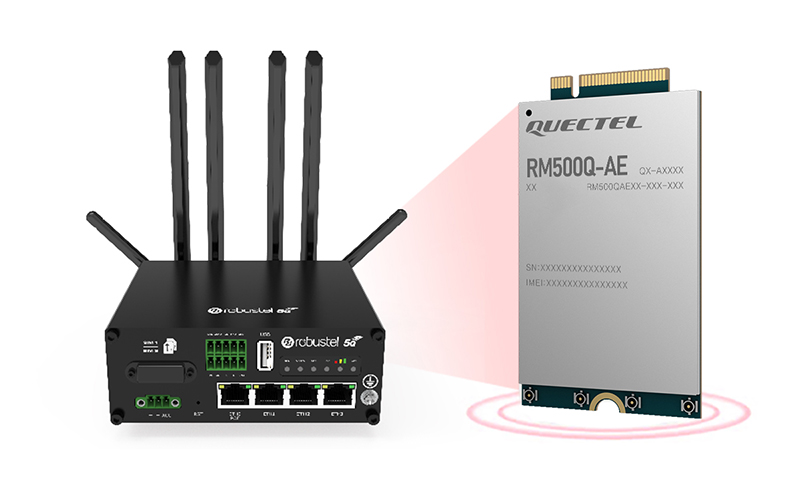 Robustel R5020 5G IoT router 'ensure us that connectivity is delivered throughout Europe so we can make the best impression to our visitors in our fully customized experience centre on wheels and show them the latest and greatest technology we have in-house.' said Michel l' Amie, IT & Innovations Manager at PFM.
As one of the key enablers of industrial controls, R5020 not only requires rapid response times, but also reliable and stable communication in complex industrial and harsh environments. The R5020 offers a robust industrial design alongside a rich variety of interfaces such as 4 gigabit Ethernet interfaces, I/O, 2.4 GHz and 5GHz Wi-Fi.
With Quectel's 5G module inside, the R5020 industrial router is able to work on 5G NR Sub-6GHz bands in both standalone (SA) and non-standalone (NSA) modes as well as on global 4G/LTE and 3G networks. With the support of 2 x 2 MIMO uplink technology in SA mode, the router can provide more real-time, bandwidth sensitive, low-latency data transmission for applications such as industrial controls, smart offices, logistics, smart cities, ports and many others.
RCMS (Robustel Cloud Manager Service)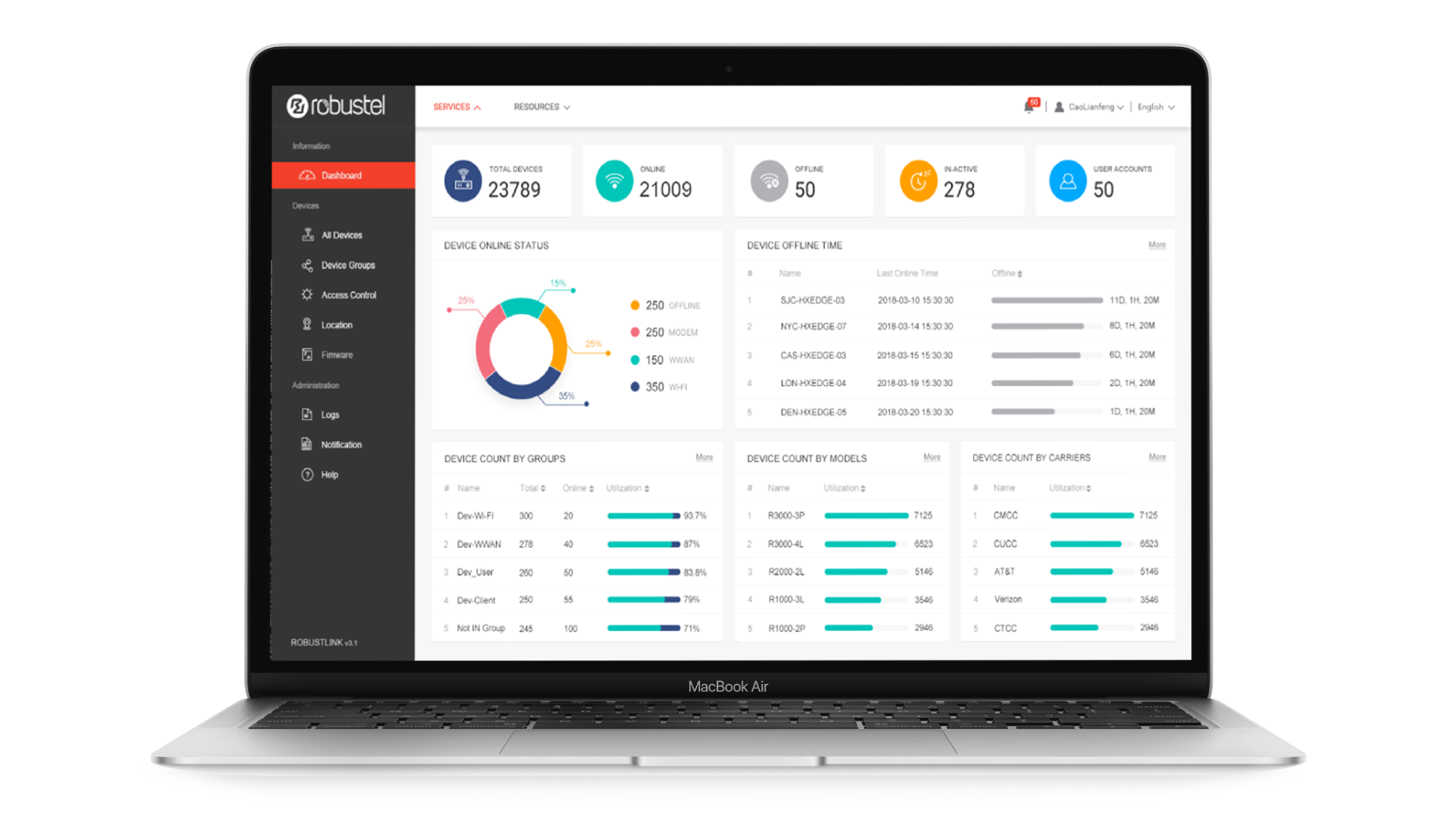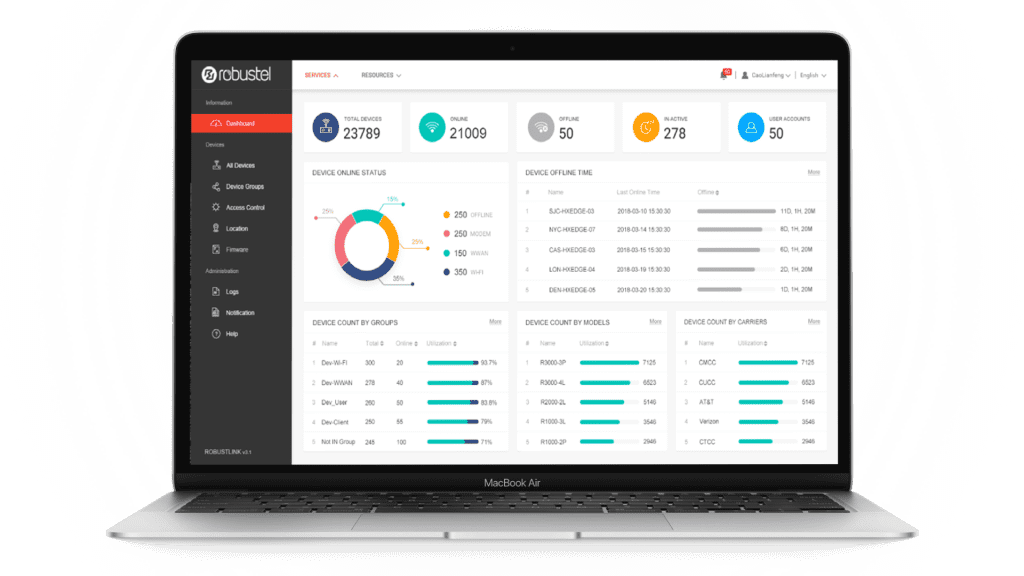 PFM also deployed Robustel's RCMS (Robustel Cloud Manager Services) for their Experience Centre.
Before using RCMS, 'we were hosting the device manager, reserve and maintain resources on our own. The number of devices and licenses where limited which was a struggle.' said l' Amie.
'Now we have RCMS with more than 100 devices connected and we are pleased with the solution. We have devices connected with the free version, but also the RCMS Advanced version so we can use the VPN tunnel. The ease of use, maintaining the devices and connecting to our sensors have improved a lot.'
Robustel Cloud Manager Service (RCMS) is a modular IoT cloud software platform compatible with all Robustel products.
RCMS is designed from the ground-up to empower Robustel customers to build their IoT Solution(s) in a manner that is scalable, cost effective and can evolve quickly with the market.
Designed to work hand-in-hand with RobustOS, Robustel's proprietary device operating system., RCMS unlocks the true potential of Robustel products giving customers the ultimate range of monitoring, management and control functions.
With it's modular design RCMS enables new APPs to be added to the platform without interfering with core behavior, to create new functionality and allow for integration with third-party software.
Ad-hoc Service
PFM also appreciate Robustel's technical support team for the 'features and especially the frequency of updates are great. Even a special request to adjust the captive portal app was delivered quickly by Robustel development team.' emphasizes l'Amie.
The fact that PFM is at the forefront of innovation is evident from the fact that they purchased the first two R5020 5G routers in the Netherlands on the advice of Delmation. 'We enjoy doing business with Delmation', emphasizes l'Amie. It is an innovative and IoT-oriented company and they share our vision for the future of technology. It's not for nothing that we have been partners in smart solutions for years.'
About Robustel
Robustel are one of the world's leading manufacturers of industrial quality solutions for the IoT and M2M market. Robustel's portfolio of award-winning solutions are comprised of: Wireless Modems, Routers, Gateways, EDGE Computing, Cloud Software and End-to-End IoT solutions.
With a state-of-the-art production facility in Guangzhou, high quality products and services make up Robustel's corporate DNA. Maintaining an ISO9001:2015 Quality Management system and a sophisticated approach to quality control, planning, assurance and improvement has seen Robustel granted with numerous global certifications, including: CE, E-Mark, FCC, PTCRB, AT&T, Verizon, Anatel, IC, Rogers, GCF, TRA, RCM, iDA, NBTC, Postel, Sirim, CCC and Telec.
Today Robustel's solutions can be found in every corner of the 'Connected World' providing IoT solutions to industries as varied as: Security, Vending, Retail, Utilities, Oil & Gas, Industrial Production & Automation, Transportation, Environmental Services and Healthcare.
About Delmation
Delmation Products, a proud Robustel distributor, was founded in 1989 and focuses on providing (partial) solutions for (industrial) data communication and IoT projects. Delmation supports companies in the field of various Internet of Things solutions based on LoRa, NB-IoT and LTE-M from IoT node to 5G router including management software.
To learn more about how Robustel can help your business save money and improve efficiency through IoT, please visit www.robustel.com or email info@robustel.com for more information.