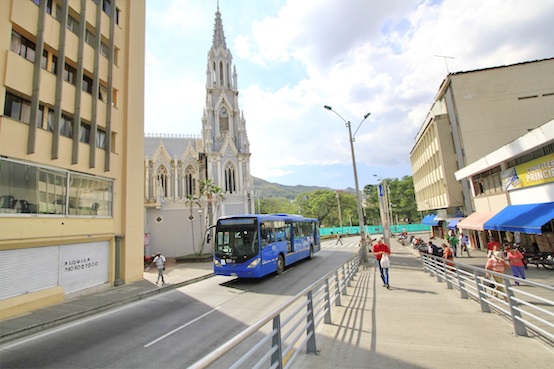 About UTR&T
The Unión Temporal Recaudo y Tecnología – UTR&T – is a company dedicated to mobility, it was created to provide and promote technology that supports the mass transport of passengers in Cali city, Colombia and its area of influence, giving a consistent service and using innovation in its services to give a good experience to its users.
UTR&T manages a functional project that has :
A fair collection system with contactless smart card in stations and buses
An external network for the sale and recharge of cards in the neighborhoods where there is a fleet planning, programming, and optimization system for the fleet and drivers.
An on-board computer to present information to the user in real time: web, reports, statistics, security system and wireless communications.
Business Challenges
In 2019, the communication with the central system was done through a GPRS modem, which sent the frames generated by the on-board computer as well as the driver's voice communications to the operations center carried out by the same device.
Since the 2G network (GPRS) is going to disappear soon, it was necessary to migrate the communication technology to more advanced ones. The idea was to evolve towards a more robust and up-to-date solution for on-board computer communication for bus telemetry and other devices.
With the need exposed by the client, Robustel's local partner Bismark evaluated different alternatives and wireless communications solutions, defining the use of equipment that works in 3G and 4G technology, and manages data and voice with a single device. Given the above, a router with the following characteristics was proposed:
Industrial-type vehicle equipment with the option to manage secure channels via VPN
Fast and reliable Internet connectivity with an integrated 4G LTE router
4 LAN ports to connect more devices inside the vehicle
Voice transmission with industrial-grade FXS port for on-board devices
Vibration performance, agile deployment, high security, and easy management
Solution Overview
The selected device was the Robustel R2000 Ent Industrial Dual Module Cellular VPN Router with Voice for the buses. The main objective with this implementation was to functionally replace the current 2G equipment with new equipment with an FXS voice port on new 4G technologies with the highest cost/benefit ratio.
After evaluating the requirement, Bismark launched a proof of concept to ensure and demonstrate to the customer the correct functioning of the solution. The advice and deep knowledge of the problem, together with the engineers of UTR&T made the project a success in its implementation.
Moreover, after-sales service is available to the client regarding commercial area, project engineering and technical support, of which the last one is available 24x7 by Bismark.
Solution Benefits
Improve the availability of Fleet Control equipment
Allow integration with other devices inside the Bus
Keep onboard equipment up-to-date
Minimize project costs obtaining real-time information and maintenance costs
Now the solution is possible to:
Track vehicles
Obtain the operation statistics of the bus rapid transit system's fleet, in a shorter time than before
Timely download the operation information through 4G/LTE network
Continue driver voice communication with the control center