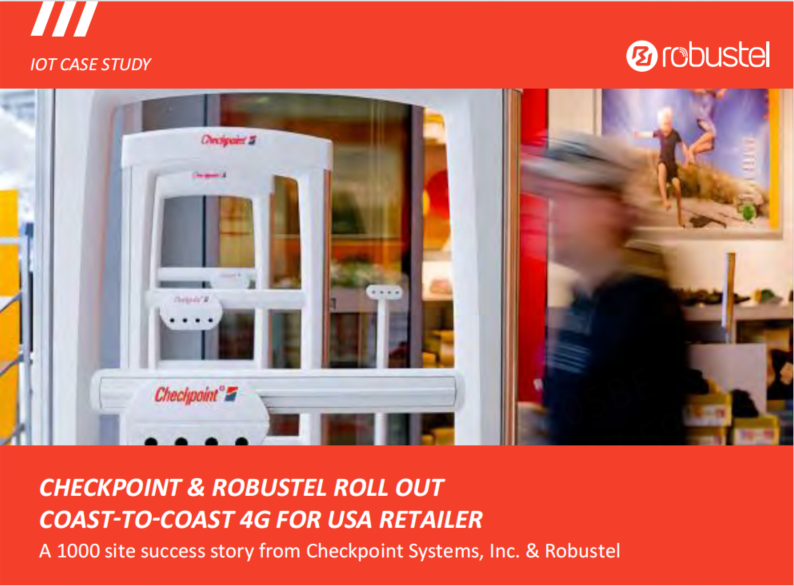 CUSTOMER:
Checkpoint Systems, Inc. is one of the only vertically integrated RF/RFID solution providers for retail, delivering software, hardware, labels, tags, service, and connected cloud-based solutions. Checkpoint is a global leader in EAS and radio frequency identification (RF and RFID) technology solutions across a diverse range of markets including apparel, grocery, electronics, DIY, health & beauty, cosmetics, craft, logistics, drug, discount and specialty.
BUSINESS CHALLENGE:
Checkpoint worked closely with Robustel's Global IoT Solutions Architect, David Evans to solve three critical business challenges for providing a seamless IoT solution for retailers across the USA.
In-store availability of 'free' internet access - One of the biggest challenges of installing 'internetconnected' hardware into 3rd party retail outlets is the availability of an internet connection. In fact, it's often a binary answer from the retail chain.
Reliability of 3G/4G internet access - Checkpoint's systems are generally located inside retail outlets like supermarkets, drug stores, dollar stores, big-box retailers and apparel stores - a nice environment for humans, but often not such a nice RF environment for cellular devices trying to reach surrounding cell towers.
Capital cost of 1000 x 4G routers - Due to the number of stores requiring internet
connectivity, over 1000 x 4G routers needed to be purchased. At this scale, the absolute cost of each router becomes a key consideration for the feasibility of such a roll-out.