Nowadays, being connected online while traveling is becoming a need rather than a luxury. The demand for passenger Wi-Fi systems has grown significantly in various modes of transportation.
It allows passengers to have access to the internet so they can stream, work, get connected with friends and family or even do some business activities.
Passengers can now make the most of their journey while staying connected all throughout their trip. This makes their journey a productive and enjoyable experience.
However, among the issues faced by transportation operators is finding an efficient and affordable system.  Therefore, it is essential to find a reliable Passenger Wi-Fi System provider that can offer a best-in-class system.
But, before discovering the solution to the challenges, let us first discover how the Passenger Wi-Fi System works.
How Does Passenger Wi-Fi System Work?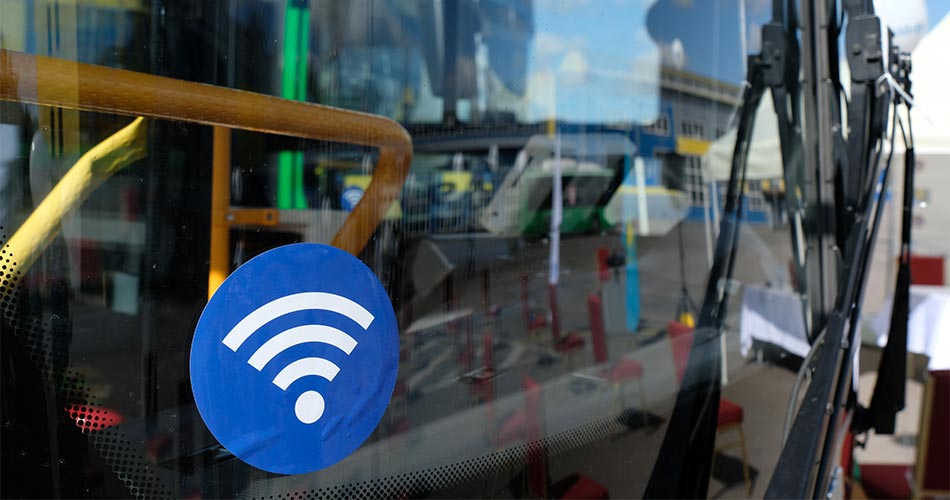 Passenger Wi-Fi systems use innovative technology and infrastructure to connect people while traveling. The system allows the passengers' and drivers' devices connected to an access point which is a powerful router that provides a reliable internet connection.
It requires a powerful network infrastructure. This infrastructure includes wireless access points, antennas, routers, switches and other components. These components provide a Wi-Fi network throughout each vehicle.
Furthermore, there are WAPs which produce Wi-Fi hotspots throughout the vehicle. These wireless access points let travelers connect their devices to the network. The size and layout of the vehicle determine the number and location of access points, providing optimum coverage and signal strength for passengers.
Managing the passenger Wi-Fi network is crucial for a seamless and dependable connection. User authentication, bandwidth allotment, quality of service management, and security protocols are managed by network management systems. In high-demand conditions, these systems restrict user access, prioritize data flow, and maintain network performance.
Benefits of Passenger Wi-Fi Systems
As passenger Wi-Fi System is transforming the travel experience, let's discover some of the key advantages below:

Seamless Communication
Passenger Wi-Fi systems let passengers remain in touch with family, friends, and coworkers. Passengers may update each other through messaging applications, email, or social media. Long-distance travelers and others who must keep in contact while traveling or commuting can benefit from this connection.
Enhanced Productivity
It boosts the productivity of commuters and business travelers. Passengers may check emails, join video conferences, and read essential papers via the onboard internet. Travel time may be used more effectively and tasks can be completed.
Entertainment
Wi-Fi gives passengers several entertainment alternatives, such as listening to music, playing online games, reading digital books and a lot more. On-demand entertainment improves commuting, especially long-distance travel by minimizing boredom.
Real-Time Information
Passenger Wi-Fi systems provide real-time trip information. They can check aircraft or rail statuses, timetables, locations, or maps and navigation tools. Up-to-date information improves travel and helps travelers plan.
Passenger Satisfaction and Loyalty
Onboard Wi-Fi enhances passenger satisfaction. Transportation providers can differentiate themselves and attract more passengers by offering seamless connections. Satisfied passengers are more likely to return and spread good word-of-mouth.
Improve Operation
Passenger Wi-Fi systems may also help transportation operators. These systems can provide valuable insights into passenger usage patterns, network performance, and connectivity demand. Data-driven choices may optimize operations, allocate resources, and enhance service quality using this information.
The Challenges Faced by Operators in Implementing Passenger Wi-Fi Systems
Installing and maintaining a passenger Wi-Fi system comes with a set of challenges faced by transportation providers. These issues might vary from technical to operational. Let's look at these various passenger Wi-Fi system challenges.
Infrastructure Cost and Maintenance
Operators may spend a lot to build and maintain network infrastructure, including installation, and maintaining routers, switches, access points, and backhaul connections. To keep the network running well, constant maintenance, troubleshooting, and equipment upgrades are needed. Operators must carefully balance infrastructure development and maintenance costs with revenue possibilities and passenger demand for Wi-Fi services.
User Management
Managing a large number of users and their devices might be difficult. User identification, device registration, and network access control need effective user management systems. They must also handle user behavior concerns like network usage and bandwidth hoarding. Implementing user control policies and monitoring mechanisms provides a fair and efficient Wi-Fi experience for all passengers.
Bandwidth Limitations
Bandwidth constraints may pose a major challenge to operators. In heavily populated areas or during peak hours, bandwidth demand might exceed capacity. This may impair internet connections, data transfer rates, and the overall Wi-Fi experience for travelers. To support a huge number of simultaneous users, operators must carefully manage bandwidth distribution and invest in network infrastructure.
Network Security
Passenger Wi-Fi security is crucial. To safeguard passenger data from illegal access, operators must use strong security measures. Secure Wi-Fi requires encryption techniques, firewalls, intrusion detection systems, and frequent security audits. To protect the network and passengers' data, operators must keep up with security trends.
Regulatory Compliance
Complying with regulatory requirements may pose a challenge to operators. They must follow rules and regulations while collecting, storing, and using passenger data. Proper data management and clear privacy rules for travelers are needed to comply.
Robustel's Next Generation Wi-Fi System: The Answer to Challenges Faced by Transportation Operators
Robustel, a prominent 4G/5G router manufacturer, has created a next-generation Passenger Wi-Fi system helping operators implement and maintain passenger Wi-Fi. It provides strong and competitive Wi-Fi service to fleet operators of all sizes using Robustel's experience in hardware and software development, partnerships, and cost-effective solutions.
It leverages proven hardware and software platforms from various vertical sectors. Robustel can provide a stable, efficient, and cost-effective Passenger Wi-Fi system by using economies of scale and their existing technologies. This reduces operators' total cost of ownership, making Passenger Wi-Fi practical for smaller fleets.
Moreover, Robustel works with a top content filtering provider. This agreement assures that the Wi-Fi system has powerful content filtering, providing travellers with a secure and family-friendly online experience. Operators can satisfy regulatory standards, safeguard passengers from unsuitable information, and improve passenger experience with effective content screening.
Furthermore, it uses low-cost airtime pricing to make Passenger Wi-Fi economical for carriers. Operators may reduce data breakout costs by working with trustworthy and affordable SIM suppliers. This cost optimization lets operators give passengers Wi-Fi without high data prices.
This Wi-Fi system is scalable, adaptable, and easy to implement. This versatility lets operators customize the system and effortlessly incorporate it into their transportation vehicles.
Also, it was awarded as a "Friendly Wi-Fi" seal of approval for its dedication to online safety. Passengers and operators are assured of the system's dependability and security by this certification.
Robustel's next-generation Wi-Fi System solves operators' problems by providing dependable, secure, and affordable Wi-Fi to passengers. Robustel's strong track record and commitment to decreasing the total cost of ownership are helping operators improve the travel experience and fulfill the growing need for connection in today's connected world.
The Core Components of Robustel's Passenger Wi-Fi System
4G or 5G Vehicle Router
The R2110 and R5020 cellular routers are the fundamental components of Robustel's Passenger Wi-Fi solution. These E-mark certified products offer 4x Gigabit Ethernet connections that may be used to connect to additional onboard devices like ticketing machines, DVRs, and other subsystems. They also support dual 5GHz and 2.4GHz Wi-Fi.
Captive Portal Management Platform
For many years, Robustel has had a cloud-based platform for managing routers. With the inclusion of the "Portal Manager" module, RCMS is now a fully-fledged Passenger Wi-Fi solution for total fleet management. An integrated VPN allowing access to automobiles from any location and very sophisticated diagnostics for fixing connection difficulties are other features.
Additional Expertise:
Content Filtering.

To provide a strong, adaptable, and very affordable content filtering solution, Robustel has teamed up with www.cleanbrowsing.org. Making use of a specialist in this area results in a better and more affordable service for the client.

SIM Provider.

The business case for Passenger Wi-Fi networks may succeed or fail depending on the availability of affordable SIM airtime pricing. Although Robustel does not sell SIM cards, it may recommend partners that have technical and commercial offerings in many countries. Another method Robustel keeps TCO low is by using the APN of the network provider for internet breakout.

Installation.

System Integrators with experience in this area specialize in installing Passenger Wi-Fi networks in vehicles. In certain cases, fleet owners have the internal resources necessary for this kind of installation. Robustel's support staff is available to provide RF, electrical, and mechanical guidance to ensure a good conclusion regardless of who the Installer is.

Antenna.

Since 5G-based systems have just become available, antenna concerns are more significant than ever since they may make the difference between "good" and "great" upload/download speeds. Robustel can advise on antenna considerations for the majority of deployment scenarios as a result of considerable technical and commercial research.
Robustel Goes Beyond a Passenger Wi-Fi System: Connecting Devices for Comprehensive Connectivity


Robustel's Passenger Wi-Fi solution goes beyond providing Wi-Fi connectivity. Transportation operators may streamline their connection infrastructure using their routers, which can link a range of devices to the internet.
Its Passenger Wi-Fi 4G/5G routers' Wi-Fi or Ethernet ports allow operators to connect other devices to the internet without the need for additional cellular hardware devices and SIM cards. This unification streamlines network setup and administration, cuts expenses, and simplifies hardware maintenance.
Moreover, Robustel routers can link NVRs, DVRs, ticket machines, validators, trackers, and other devices. This lets operators create a complete network ecosystem to link vital subsystems and devices for efficient operations.
A "single router & SIM" solution for all subsystems has long been the ideal situation for many transportation companies. This vision is affordable with Robustel's solution. Operators may simplify their network architecture, minimize hardware components, and save money by using Robustel's routers and their strong connectivity.
Robustel's complete connectivity solution helps transportation operators optimize operations, improve security, and automate connection management. Robustel helps operators develop efficient and connected transportation ecosystems with their stable and high-performance solutions.
Discover more about the future of passenger connectivity with Robustel's next-generation of Passenger Wi-Fi System. Contact us today to revolutionize your passenger Wi-Fi systems.