Overview
Robustel's 3G/4G routers and modems are regularly used in a variety of road and roadside systems as IoT traffic management solution. The main applications are as follows:
Automatic Number Plate Recognition (ANPR): Also known as Automatic License Plate Recognition, ANPR systems often require an internet connection to transfer "evidence packs" from the roadside to a central server where management of enforcement data or data from private systems such as car parks can be processed.
Variable Message Signs (VMS): Whether it is a small sign on the back of a trailer or one of the major fixed installations on a gantry, a communications methodology is essential for updating/maintaining VMS signs. Robustel's industrial grade R3000 series router as IoT traffic management solution are ideal for the inclement conditions in which such an installation may occur.
Average Journey Time: In recent years the sniffing of Bluetooth or WiFi MAC addresses has become a common way to ascertain average journey time between two points in a road network. Journey time systems require internet access and commonly use 3G or 4G routers to make a connection to an application server.
Parking machines: Many parking machines have a telemetry requirement and Robustel's entry level routers or simple modems can be used to provide backhaul.
A common requirement across many roadside systems is outdoor installation of equipment. All 3G/4G routers can fit inside a specialist IP67 enclosure made by Robustel - product details of the TPH6700 here.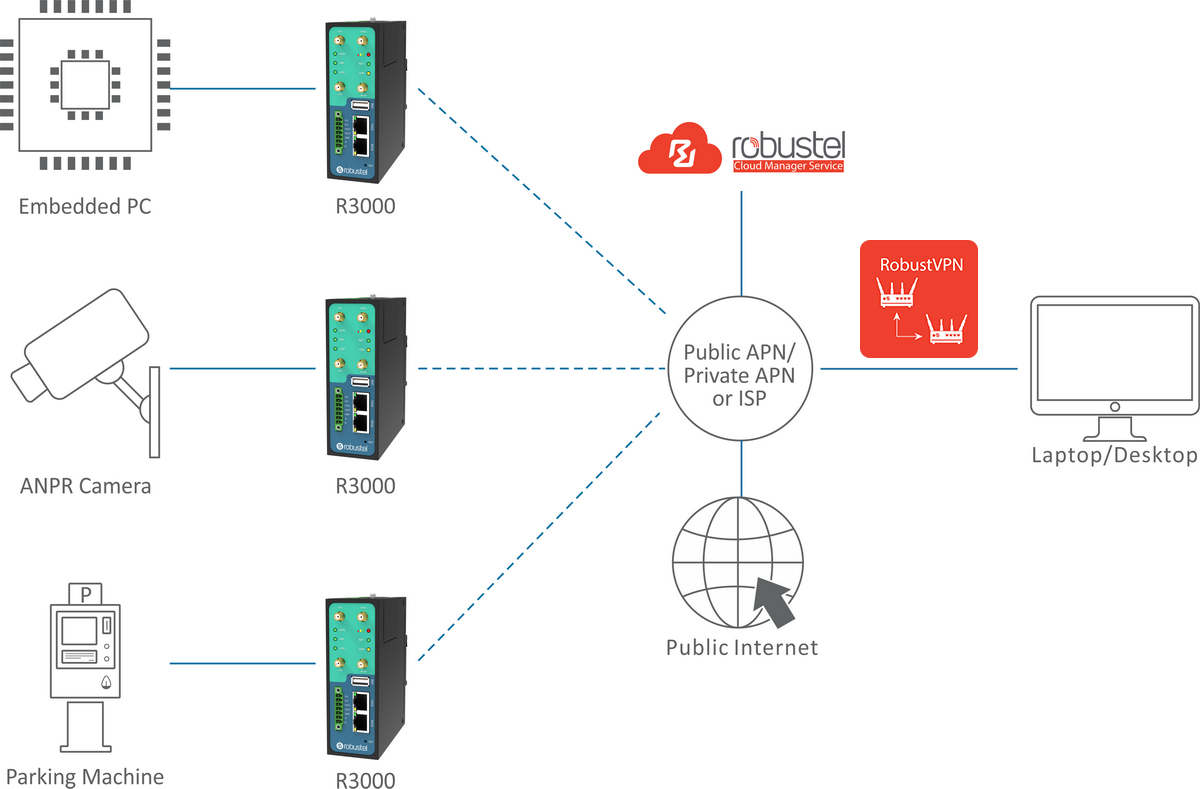 What are the benefits of partnering with Robustel to deploy IoT traffic management solutions such as road, traffic & parking infrastructure?
Robustel Benefits at a glance
Industrial Performance – Industrial operating temperature, over-voltage protection and robust housing make Robustel routers ideal for installation in harsh environments.
Outdoor Ready – Specialist IP67 enclosure (TPH-6700) available to house 4G router and optionally customer electronics externally in space-constrained applications
Global Certifications - Global certifications for Robustel 3G/4G routers in North America, Europe, Asia-Pacific and more - please enquire for full details.
'RobustVPN' – A unique networking solution from Robustel. Allows deployers to make a remote connection to any Ethernet or serial device directly using any SIM anywhere on the planet without the need for a static IP address.
'Smart Roaming' – unique intelligent network selection algorithm designed to optimise the performance of roaming / multi-network SIMs.
DATA-Guard – DATA-Guard data limiting APP provides a flexible and innovative failsafe against the dangers of "bill-shock" from unexpected 4G data overruns.
Create your own application using RobustOS
All Robustel routers run the Linux-based, "RobustOS" operating system.
Because Robustel write the router Operating System in-house, Robustel's levels of tech support and software customisation far exceed the typical capabilities available in the market.
This means that users in the Road, Traffic & Parking Infrastructure Management market can develop a dedicated application for Robustel's routers to customise the product's behaviour to exactly meet the project's demands.
An example of such an application would be to embed the software required to drive an RS232 dot matrix display into the router rather than having a separate PCB and dedicated software. This could cut the cost and complexity of implementing roadside VMS Systems.
Cloud Device Management and VPN Access through RCMS
Robustel Cloud Manager Service (RCMS) is Robustel's custom IoT software platform and eco-system. Connecting your Robustel device to RCMS opens up a world of applications to make managing devices, connectivity and provisioning simple.
Use the Robustlink Device Manager App inside RCMS to instantly access your connected devices from anywhere. Allowing you remotely configure, update apps & firmware, debug error logs and view data usage at any time.
Use the RobustVPN App inside RCMS to create allocate one or many of your deployed devices to a VPN group which can they be accessed through the RobustVPN desktop application to access your deployed devices without the security risk of a public IP address or the need for private Static IP allocation from your carrier.