Improving the access and efficiency of systems that citizens rely on everyday is at the heart of smart city planning. Smart networks and infrastructure are used across a range of sectors – from public transport to energy and communications.
At the core of smart city planning is smart lighting systems. Lighting up walkways, roads, public buildings and spaces makes them safer for those who use them. However, lighting the streets and public spaces in cities around the world is one of the biggest expenses for local governments. That's where IoT smart lighting systems come into smart city planning.
City planners are relying on these connected light systems to make areas safer, while driving down overall energy and maintenance costs. Going beyond traditional street lights, smart city lighting solutions are more efficient and have the ability to be customised to match the exact needs of an area or city.
Robustel has cutting-edge IoT solutions, working to provide lighting that is efficient, remote and can be managed wirelessly to future-proof smart city solutions.
What is a smart lighting system?
A smart lighting system uses solid state lighting (SSL), communication interfaces and advanced control systems to help operators manage lighting in both indoor and outdoor areas, from one location. They can also be connected to building lighting control systems to improve the energy consumption of businesses and other organisations.
Smart lighting systems generally include IoT-enabled technologies, such as:
Digital sensors

Communication interfaces

Actuator drivers
Using this technology, operators can create a cluster of lights that can communicate with each other and all be controlled remotely. These wireless lighting systems can provide data to a management system to streamline operations.
How does smart lighting work?
Like most other IoT technologies, smart lights are connected to each other and a central operating system, which includes wireless connectivity, cloud hosting and IoT hardware and software. Not only can different technologies in a system communicate with each other, but these wireless lighting systems can also collect and transmit to a management system to streamline operations. Practical applications include:
Connected smart traffic lights.

Smart office lighting to turn off outside business hours.

Traffic congestion management system.

Smart home lighting systems.
Programmed with advanced algorithms, these systems can be operated remotely, without the need for someone to manually adjust controls. This reduces costs, along with light pollution in specific areas.
What are the benefits of smart lighting?
Smart lighting systems are a sustainable and practical way to decrease energy usage and expenses. There are benefits for everyone – from city planners and local governments, to a runner on the street. Benefits of these systems include:
Reduce energy consumption and costs: operators can turn lights on and off as the demand and traffic in a specific area increases or decreases.

Access real-time data: operators can assess the status of lights and detect and assess outages or problems faster, reducing the need for technicians to visit on-site.

Increase public safety: brighten high-crime areas to deter criminals, or light up bike paths and walkways during the night.

Improve traffic conditions: lights can be adjusted to cater for undesirable weather conditions, like fog or heavy rain.

Improve a city's environmental impact: energy consumption can be measured and reduced, in turn minimising the levels of light pollution and the environmental footprint of a city.
Why is IoT lighting important to smart cities?
Smart connected lighting systems have begun to play a large role in the transformation of cities, making them more efficient and safer. Alone, these systems can turn a city's lighting grid into one controlled network – with the ability to modify each light, down to a single element like their brightness.
However, in a smart city, street lights have many more functions other than just illumination. The attached sensors can be used to record traffic volume and communicate with road traffic controllers. They can monitor parking spaces, or even recharge the batteries of an electric car. Being connected to a single network, these lights can help make a city more efficient on a broader scale.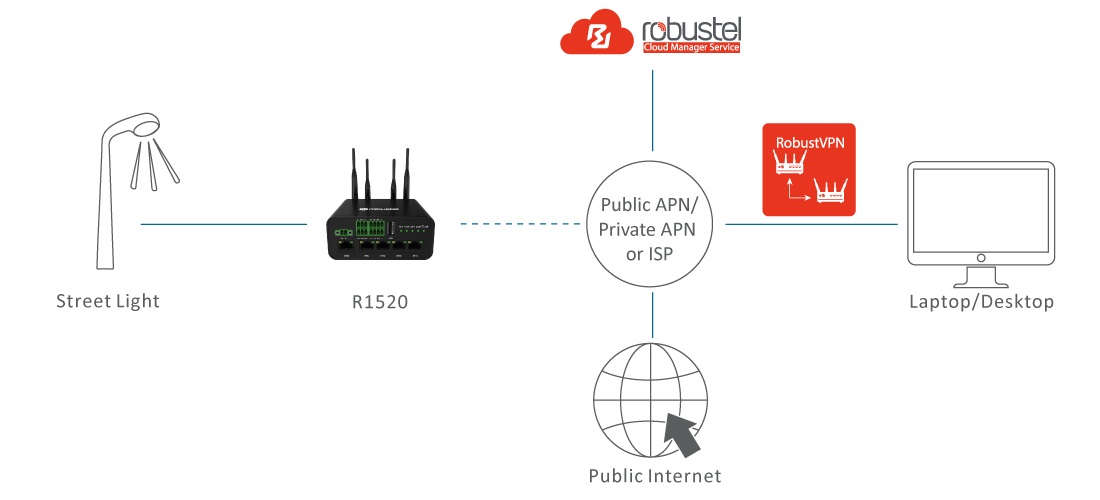 Robustel powers smart city lighting solutions
A stable and reliable network is key to creating an efficient connected lighting system. When it comes to remote device monitoring that is always connected, Robustel has a solution for you.
Robustel enables intelligent street lighting systems that remotely monitor and manage energy consumptions. Operators can leverage the ability to wirelessly control the light systems in a variety of ways, from dimming the lights during peak hours to setting schedules so groups of lights can be turned on and off at set times to conserve energy.
Our 3G/4G routers can be easily integrated into your smart lighting system. Robustel Cloud Manager Service (RCMS) is Robustel's custom IoT software platform. By connecting your device to RCMS, you open up a world of applications to make managing your smart lighting devices simple. Instantly access your connected devices from anywhere, without needing to travel to the site. This access allows you to remotely configure, update apps and firmware, debug error logs and view usage at any time. Speak to one of our experts on how we can get you connected today.