Elevators are the urban workhorses that move us through cities and buildings. Many people use elevators in their daily commute to work, as well as moving between floors in offices and shopping centres. Elevators have evolved over the years to keep up with the demand, using carbon fibre ropes and more durable machinery to keep the them moving. Now, design has gone a step further with Internet of Things (IoT) technologies.
IoT is changing elevators beyond getting people up and down buildings with speed and comfort. Now, smart elevators are collecting data, monitoring traffic flows and even acting as powerful advertising tools.
Robustel's Elevator IoT solutions are designed to help elevator manufacturers and maintenance companies to manage their machine's performance efficiently. Connecting your Robustel device to the Robustel Cloud Management Service (RCMS) makes managing your network, connectivity and provisioning simple.
The benefits of deploying an IoT elevator solution
IoT technologies give elevator operators new opportunities to observe, analyse and react more efficiently. There are numerous benefits to IoT elevator solutions from operational and user levels, including:
Improving safety.
Facilitating time-consuming and cost-saving upgrades.
Decreasing waiting periods for users.
Providing emergency response.
Diagnosing problems from a remote location.
Offering power-efficient systems.
Streamline operations with smart elevator technology
Similar to building management systems, one of the main uses of IoT in smart lift solutions is to monitor operating conditions. By utilising technology such as an elevator sensor, large amounts of data can be gathered and used to streamline operations. The type of information that can be gathered, includes:
Load weighing.
Crucial safety circuits.
Number of daily trips.
Waiting times.
Trends in peak times.
Analysis of ride (accelerations, jerking, vibrations).
Using this data, operators of an elevator management system can make informed operational decisions on finishing times, large meetings or conferences, or scheduling around train arrival times.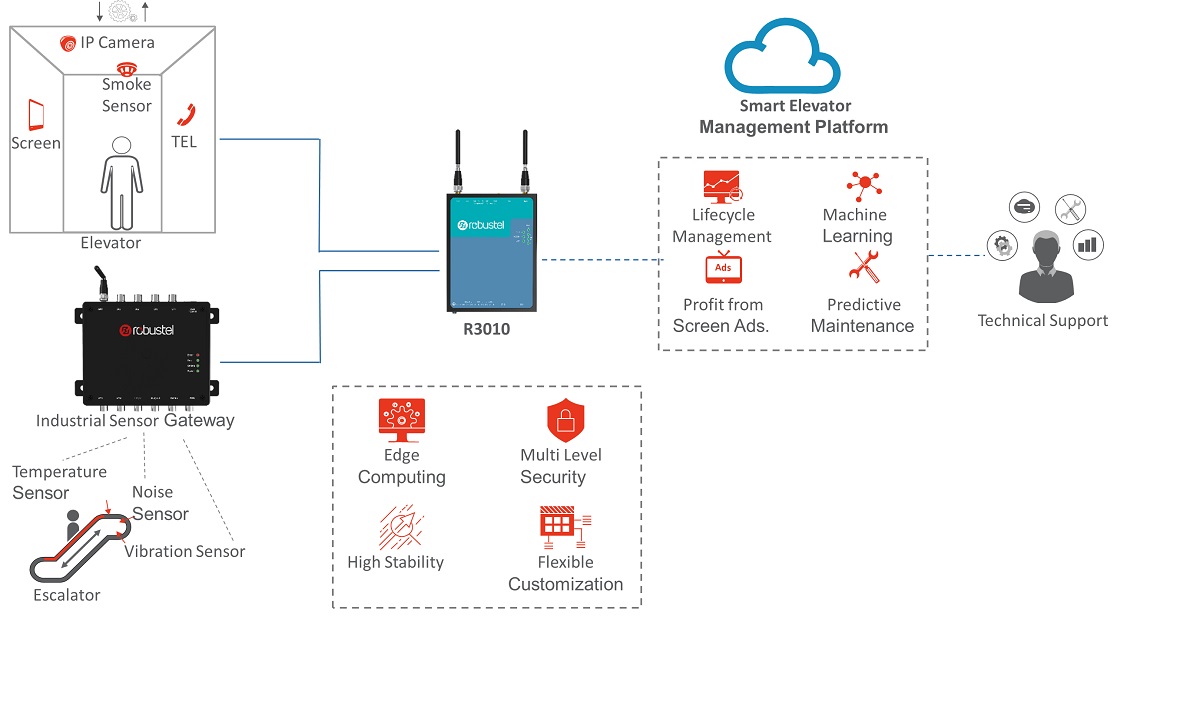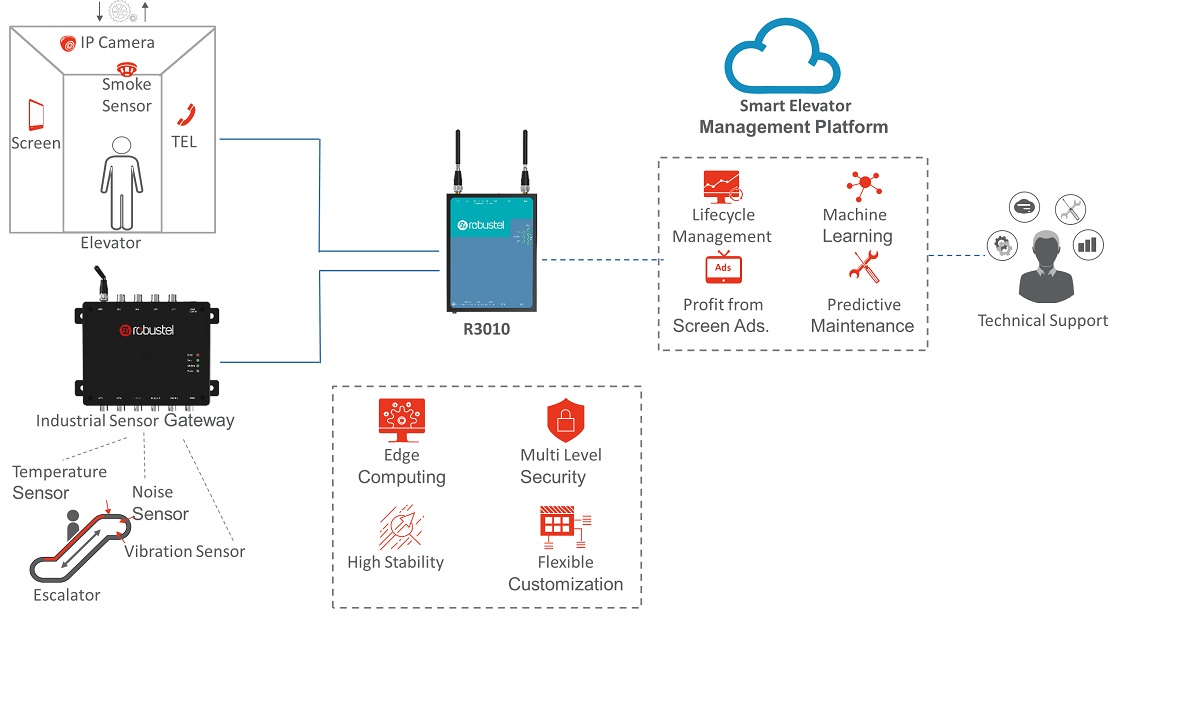 Connecting a smart elevator system for predictive maintenance
IoT-connected elevator systems' biggest time-saving capability is to improve the maintenance schedule. Devices that monitor changes in operating conditions, like heat or noise, can be used to predict when the elevator requires maintenance. Elevator maintenance is typically run on a calendar-based process with monthly checks. However, mechanical parts and elevator sensors don't always adhere to a timetable and failures can happen sporadically and unexpectedly. With IoT, building and elevator operators can take a proactive approach by utilising remote-monitoring devices, which means repairs and maintenance can be planned and performed during off-peak hours, minimising user disruptions.
By collecting data on each component of the elevator, down to parts like an elevator door sensor, it can be analysed to understand the operating performance. This allows issues to be addressed in advance, while avoiding possible disruptions, like someone getting stuck inside the elevator.
Remote monitoring and troubleshooting
The constant influx of data from connected elevators enables elevator technicians to diagnose problems before they reach the building. This saves time onsite that would otherwise have been spent testing and diagnosing the issue. Without IoT, technicians need to be dispatched to the location to diagnose the fault correctly, before ordering parts if they don't already have them on hand. By utilising IoT, the technician immediately knows the elevator is out of service and can troubleshoot the issue before reaching the site.
Operators of connected elevator monitoring systems can also catch issues before they become a major problem, minimising the potential downtime and disruptions of a broken elevator.
The deployment of IoT elevator technology will continue to gain traction in the coming years due to the implementation of smart equipment in building management systems. Robustel's Elevator IoT solutions are completely customisable to suit your project specific needs. Chat to one of our team members to get connected today.